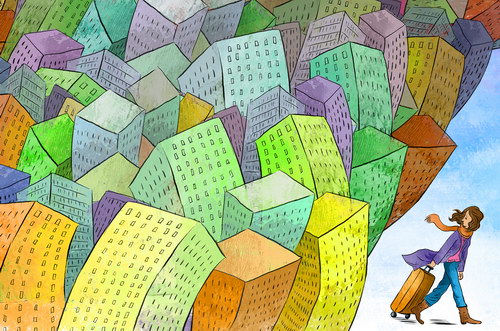 Liu went to study civil engineering as a postgraduate at Cardiff University in Wales in 2004. Her husband went to pursue the same degree at the University of Southampton in England in the same year. Liu started her job in Shanghai in 2005. She is now a business manager working for the UK-based management and construction consultants Gleeds Building Surveying Ltd, while Qiu is now a project manager with the US-based CB Richard Ellis Group Inc, a company providing all kinds of real estate services. Both have management positions in their respective companies. They are now making an annual salary of about 500,000 yuan.
The apartment that Qiu bought is exactly the same as Mao's. After making a 20 percent downpayment, their repayment is 3,000 yuan every month - a sum they regard as "little burden".
Although Liu's parents gave her a car, an Audi A4, as a wedding present, she seldom drives to work because she considers public transport to be very convenient.
"There is a metro line running around the community. It is only a 30-minute ride from our home to our offices in the downtown part of the city. We would quite likely encounter traffic jams during the rush hour if we drove. Therefore, we prefer taking the metro to work," said Liu.
Liu's family bought her a 100-square-meter apartment outright in 2006 at a cost of 10,000 yuan a square meter. Located near Shanghai Railway Station and the city center, the apartment is now worth at least 30,000 yuan a square meter.
But Liu still prefers her apartment in Baoshan, where almost all necessary living facilities can be found around the residential community.
"We are thinking of having a baby next year. It is good that a kindergarten, a primary school and a middle school have been established in our community. It seems that everything is ready now," laughed Liu.
The residential community is not short of shopping areas. A large department store is said to be coming in six months, according to Liu. Two Lianhua supermarkets already exist within the community.
While retail giants reach out to the suburban areas, some residential communities in suburban Shanghai areas have reported price reductions from the beginning of June.
According to Shi Hongrui, general manager of Hanyu Property, a Shanghai-based property-consulting firm, prices for some commercial residential apartments located in suburban Shanghai such as Baoshan or Pudong have dropped by about 4,000 yuan a square meter.
"Because more than 70 percent of apartments in these residential communities have been sold, it is very likely that the price will drop by 10 percent in the coming months," said Shi.