Supermarkets see potential as low and middle earners flee city centers
SHANGHAI - Escalating city property prices have ignited a great race to the suburbs by the urban middle class, mostly young managers and professionals.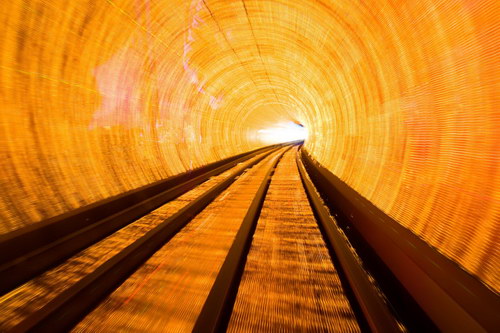 Shanghai's metro facility. The operation of more metro lines has helped young people, who are unable to afford the high local housing prices, to move to distant suburbs. [Photo/China Daily]
The rush is particularly intense in Shanghai, where prices of apartments in the city have risen by 60 percent on average during the past three years.
The population of the inner city continues to rise as floods of immigrants from rural counties in neighboring regions move in, but better-off young couples are escaping in their droves to seek a better quality of life for themselves and, more importantly, their children.
As a result, many suburbs that were once nothing more than industrial wasteland have enjoyed an unprecedented boom in the construction of sprawling residential complexes, sparkling shopping malls and a host of public-service facilities.
Ma Xinsheng, chairman of the city's retail giant Shanghai Bailian Group Co Ltd, said that the suburbs will be the company's main focus by the end of this year.
"We cannot tell you exactly which suburban areas in Shanghai we are planning to explore by the end of the year because it is a trade secret. But we can tell you that Bailian Group as a whole is about to open more than 800 supermarkets in the suburbs of a number of large cities in China, having discovered the growing purchasing power among residents in these areas," said Ma.
By 2000, Shanghai Lianhua Supermarkets, a subsidiary of Shanghai Bailian, beat Shanghai No 1 Department Store in terms of sales to become the largest retailer in China. By the end of 2010, Lianhua operated 5,172 supermarkets scattered around 19 provinces and municipalities nationwide.
The French hypermarket chain Carrefour SA, for example, has set up about 21 stores across Shanghai, including five of the nine remote districts outside the downtown area.
The exodus to the suburbs is having a profound and long-term effect on the strategic planning of corporations in many different sectors, including banking, retail, entertainment and, of course, property development. What's more, the trend is posing a new challenge to government planners, who must assign resources to meet the needs for transportation, utilities and other public services created by the ballooning populations of the suburbs.
Recognizing the needs of many newly married couples who share the China dream but lack the money to realize it in the city, some local developers began several years ago to test the market by building a few low-rise apartment blocks close to Shanghai city center, including the Baoshan and Pudong districts. Brisk sales of these modest apartments led to much more ambitious plans that expanded into a construction boom.
This led to the implementation of many public-works projects, mainly transportation. Metro lines 7, 8 and 10 were opened in recent years to facilitate travel to and from downtown destinations.
Research by China Real Estate Information Corporation (CRIC), a leading provider of housing news in China, reveals the residential communities located in the great suburban areas of Shanghai such as Fengxian district in the south and Baoshan district in the north, priced at around 15,000 yuan ($2,319) a square meter, were the most popular in the first half of this year.
"Especially starting from the beginning of May, about 120,000 square meters of commercial residential apartments, priced less than 20,000 yuan a square meter, were sold every week. It means that people with a real need to buy an apartment for their own residential use - most of whom were looking at low- or mid-level properties - are dominating the market," said Xue Jianxiong, a senior analyst with CRIC.
Statistics recently provided by SouFun Holdings Ltd, the country's biggest real estate website, show that among the 100-plus residential communities that will go on sale over the next six months, more than half are in the suburbs of the city and priced from 15,000 to 30,000 yuan a square meter. These apartments are aimed at people with a real need to buy their own apartment - for example, recently married couples.
Gu Yinghao is a senior air traffic controller with the Air Traffic Management Bureau of East China. Married in March, Gu spent about three years preparing for his big day. He was especially careful about the most important element - the couple's new home.
Although his job is highly regarded and demanding, his salary is "no match with his counterparts in the West".
He said: "I joined the bureau in 2008. I made an annual salary of 100,000 yuan in the first year, 140,000 yuan in the second year and 150,000 yuan in the third year."
That, he said, meant he could only afford to buy in the more remote suburbs of Shanghai. New apartments within the Shanghai Inner Ring Road, the central part of the city, are "way too expensive".