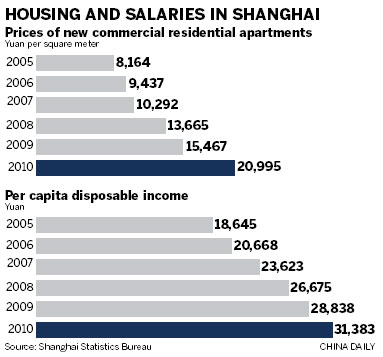 After searching for about a year, he finally settled on a residential community in Nanhui district in the southeastern corner of Shanghai.
"It is really far away, about 18 kilometers away from the Shanghai Outer Ring Road, the nearest expressway I can take. It will take me at least 40 minutes to drive from the apartment in Nanhui to my office near Hongqiao International Airport - not allowing for traffic jams," said Gu.
"I only paid 10,000 yuan for the Ford I am driving now. My parents covered the remaining 170,000 yuan. It is good that I have got a car now, otherwise I would have to spend more than five hours a day traveling from home to the office by bus and metro."
Gu bought the 92-square-meter apartment in the estate developed by Shanghai Gangtai Property Company in 2009 in preparation for his marriage.
"The apartment cost 8,000 yuan a square meter at that time. I only paid a 20 percent downpayment when I signed the contract. Therefore I need to repay about 3,000 yuan every month," said Gu.
To make ends meet, Gu started counting every single bit of income and expenditure after he bought the apartment, "exactly every number".
Although Gu has an apartment of his own, he and his wife are still staying with his parents in Pudong new district, which is much closer to his office.
"The time we would have to spend traveling to and from work is too much of a headache for us. What's more, there are few facilities around the apartment we bought. We have no place for recreation. Therefore, I am considering this apartment as an investment. If I could, I would definitely sell it and move to an apartment near my office," said Gu.
Most commuters from the suburbs resent the amount of time they spend commuting. Mao Mao got married in April this year. Currently a third-year PhD student studying civil engineering in Shanghai Tongji University, she spends almost 90 minutes traveling from her home in the north of Shanghai to her university, via lines 7, 4 and 10 on the subway.
"I have to get to the lab around 10 am about four times a week. My work is quite flexible now," she said.
But it is quite a different story for Mao's husband Xiao Pang, who graduated from Tongji University and now works as a structural engineer with the Shanghai office of Arup Associates, a London-based company providing engineering, design, planning, project management and consulting services for the built environment. His office is in mid-Huaihai Road in the city center and he has to travel for more than an hour every day from home to work.
The couple bought a 92-square-meter apartment in North Shanghai's Baoshan district in June 2009 before their wedding at a cost of 9,000 yuan a square meter. As a present for their marriage, Mao's parents gave the couple 200,000 yuan to pay the 20 percent down payment.
As Mao is still pursuing further studies, the burden of paying back the loan at 2,200 yuan a month is left to Xiao.
"My husband made some 100,000 in his first year with Arup. I know it is not a lot of money. However, as the firm is world famous and receives good project orders worldwide, he still considers it a good opportunity to work there. As he has been working with Arup for about four years, his salary has increased annually," said Mao.
Living in the same residential community as Mao, Liu Yinzhi and her husband Qiu Dapeng are better placed, having both been working for at least five years.