C
U
S
T
O
M
E
R
S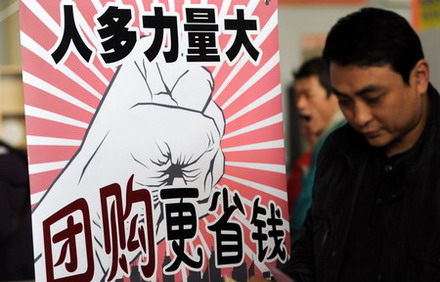 Lower Price
Consumers are gathering online in locally and nationally based websites to organize group buys, saving thousands of yuan on big items like cars and home furnishings, and getting ultra-discounted tickets to concerts and tours.
A quick glance at a group purchase website shows 621 people have bought meals at a hotpot restaurant for 75 yuan so far, down from 245 yuan, while earlier records show that a massive 152,160 people bought discounted tickets to Beijing's Jackie Chan Cinema. [Full story]
Related Reading: The price ain't right

................................................................
Better Life
For many people, online shopping means a change of lifestyle and convenience with a few mouse clicks.
Tsinghua University student Liu Dun, 21, bought a ticket to a Beijing golf tournament for just 20 yuan -- instead of the usual 1,000 yuan – on a group-buying website.
Liu says he made "a lot of friends" after the tournament. [Full story]

Related Reading: Better than Bargaining
Poor quality

The Beijing Administration of Industry and Commerce said group purchase enterprises have become a hot subject for complaints. The administration said it received 21 complaints in August alone.
The complaints are mainly focused on discrepancies between goods or services consumers received and what was advertised on group purchase websites. [Full story]
..............................................................
Hidden cost
At one of the Russian restaurants, we were cold-shouldered by the waiters, who refused to give us a better table and told us the Russian soft drinks on the menu had sold out.
They rely on tips and clearly the frugal online customers from tuangou websites who spend just 60 yuan ($9) on a meal priced at 300 yuan ($45) are not going to be great tippers. [Full story]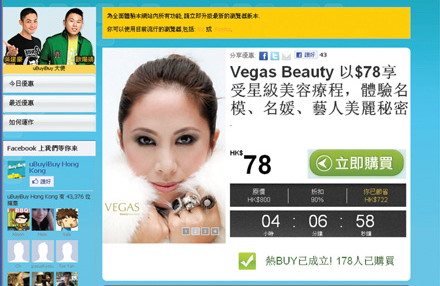 ..............................................................
Fraud
A video game center in Sanlitun that promoted its business by offering a special discount on a group purchase website on June 25. As part of the deal, 13,333 netizens paid 43 yuan ($6.5) each for cards that could each be changed into game coins worth 333 yuan.
But, on Aug 29, the Sanlitun center, named Game Park, closed, prompting hundreds of netizens to gather outside to ask for their money back. [Full story]
V
E
N
D
O
R
S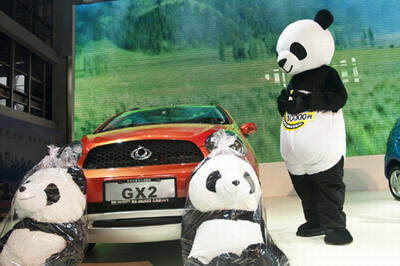 New sales channel
China's privately owned Zhejiang Geely Holding Group Co, launched its official store on Taobao Mall late last year.
The company started offering two of its Panda models on the website from Dec 22, 2010, initially through a group-buying system. [Full story]
................................................................
Brand building
Different from the traditional promotion methods, group purchasing offers a brand new marketing model for venders to promote new products or goods clearances. And it's also a smart way to conduct brand marketing, said a group-purchase analysis report issued by iResearch.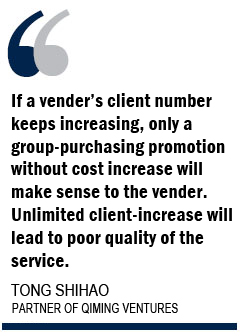 Short of manpower
For a photo studio with less than ten staff, group-purchasing may be not a wise choice.
Mrs Lu, the owner, told China Business News in December 2010 that after cooperating with a group purchasing website, her studio has received some 2,000-3,000 orders.
It would take a year to digest the large quantities of orders, she said, adding that her studio doesn't have enough manpower to take on all the demands.
...............................................................
Low profits
"If a vender's client number keeps increasing, only a group-purchasing promotion without cost increase will make sense to the vender. Unlimited client-increase will lead to poor quality of the service." said Tong Shihao, partner of Qiming Ventures.
W
E
B
S
I
T
E
S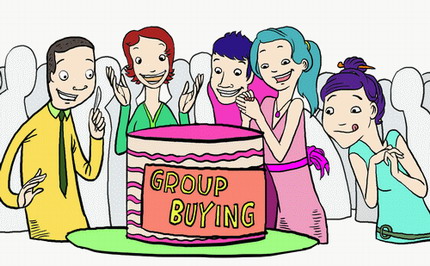 Bonaza
Group purchase websites in Beijing saw their first Golden Week during the National Day holidays and there was a rush on some consumer goods they were promoting.
The first group purchase website in the capital was set up in March and the new phenomenon has been growing in popularity ever since. The sites organize would-be buyers into large groups that can negotiate huge discounts for such things as tickets, thanks to their size. [Full story]
Competition
With huge discounts, China's online team-buying websites, familiar as Groupon.com in the US, are drawing an increasingly large army of buyers.
The potentially lucrative business model of online team-buying websites are also taking in more revenues, as shown by the number of such websites which more than doubled to about 900 in July, according to Analysys International. [Full story]
..............................................................

Certification
Only about 20 group purchase websites got credit certificates out of the more than 300 applicants, according to the China International Electronic Commerce Center. The launch of a rating system for group buying business is aimed to regulate this newly-emerged business form and may weed out some the weaker companies now in the field. [Full story]

There's strength in numbers
Chinese Internet start-ups have a unique skill in identifying the hottest online innovations from the United States, quickly copying the business model and then localizing the service in China.
Those entrepreneurial skills have given birth to Chinese technology giants like Baidu, Alibaba and Tencent - many of which later gained a competitive edge over their US rivals in the China market.
The latest US target for Chinese Web "wannabes" is a US site called Groupon.com, which is the online version of the traditional group discount. [Full story]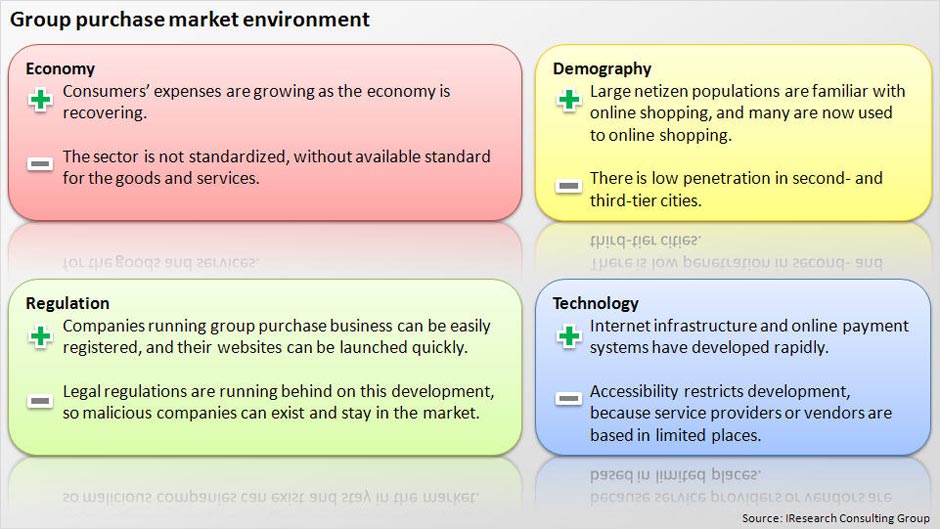 Online group purchase to balloon in 2011
China's online group purchase market is expected to reach 16.5 billion yuan in 2011, accounting for about one percent of all online retail sales, according to a recent industry report.
The sales volume of group purchases in the second half of 2010 reached 1.79 billion yuan, with that in December alone reaching 401 million yuan, tuan800.com, a group purchase navigation site said in its report released in January, 2011.
It estimated the sales volume for the whole year of 2010 to be around 2 billion yuan, after Groupon's Chinese clone meituan.com unveiled the country's first group-buying website in March that year. [Full story]