Collective bargaining power
Updated: 2010-07-22 07:40
By Joy Li(HK Edition)
| | | | | | | | | |
| --- | --- | --- | --- | --- | --- | --- | --- | --- |
|   | | Print | | Mail | | Large Medium  Small | 分享按钮 | 0 |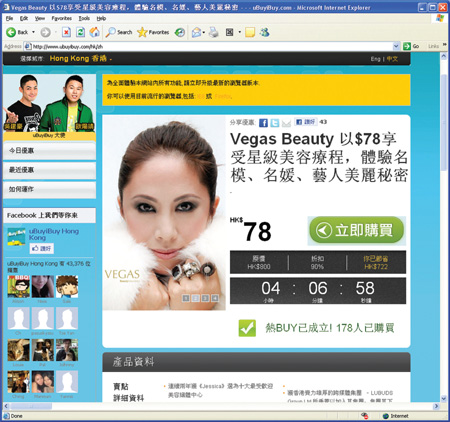 A beauty salon offers cosmetic treatments at a price discount of 90 percent on ubuyibuy.com. A spate of group buying websites like ubuyibuy has waded into Hong Kong, commonly featuring one heavily-discounted service or product for every day.
People will do almost anything for a 'bargain' and that has fueled the latest marketing craze to hit Hong Kong, group buying websites. Some however believe the Hong Kong market may be more difficult to penetrate than the American market where the concept is proving a huge success. Joy Li reports.
Creative painting, facial treatments, rock climbing, Italian gourmet food, burgers, ice-cream and haircuts, a diverse array of products and services scattered throughout the city, but sharing one thing in common: they all are being offered at price discounts of at least 50 percent. The offers can be tantalizing. But on the line just below where the big discounts are shouted out comes the fine print. These discounts are not generally available for everybody. In one case, the discount offer demands that at least 50 purchasers must sign up together. One even demands that purchasers stand in a queue just before midnight.
No need to grab that telephone and call up 50 buddies. In the modern era of the Internet, one needs only to click the "share" button on the web page, to spread the word on Facebook or Twitter. By June a spate of group buying websites had waded into Hong Kong, among them are ubuyibuy, twangoo, funshare, gig on zone, gobuya, to name a few. The concept is simple and straightforward. Each day, the website features one heavily-discounted service or product, like HK$38 for an AMC cinema ticket originally priced at HK$75 or HK$199 for HK$400 worth of Italian food and drinks at Domani Ristorante. In a pre-set time limit, usually 24 hours, once a required number of buyers are reached, the green light is on for the deal to proceed and the buyers will receive an e-voucher allowing them to redeem the item they have purchased. If the number falls short of the target, the deal will be called off and buyers who have paid via credit card will get refunds.
The cycle goes on every 24 hours. Primarily, the business model relies on social networking sites such as facebook and twitter to snowball the buyer camp, which is further beefed up through email alert registration. The profitability of such group buying websites hinges on the number of deals completed, as they cut a slice from each booking. Acting as a connecting agent between potential customers and merchants, group buying websites, as Danny Yeung, chief executive and co-founder of ubuyibuy.com put it, "lead to win-win situations since consumers get unbelievable discounts on premium products and services, while merchants sell large volumes and gain access to new customers."

This wave of on-line group buying which hit the city and possibly wider areas in the region is the ripple effect of a US success story. Launched in November 2008, Groupon.com is the pioneer that got the frenzy of collective buying started. It grew out of a website called The Point, which was launched a year earlier. It was planned to act as a platform allowing people to start fund-raising, for example. There was however "a tipping point" based on the number of people who agree to participate. Initially the collective action aimed at anything people wanted to do as a group, but as the concept evolved the greatest interest was shown in group purchasing. The website which got its start in Chicago is operating in more than 150 cities around the world today. In April of 2010, Groupon raised $1.35 million from a fourth found of financing led by Digital Sky Technologies, a Russian investment firm which owns a stake in Facebook. It was reported that Groupon now has a market valuation of about $1.35 billion.
Apart from the economic slowdown that bolstered its rapid growth, Groupon, by the concept behind its business model, earns profits through customer interaction. John Sviokla, vice chairman of Diamond Management & Technology Consultant and a former professor at Harvard Business School, analyzed four keys as the website's trump card in an article published in the Harvard Business Review last September. The first is super simple interaction. Unlike promotion pamphlets replete with discount information ranging from all sorts of products at the same time, Groupon features only one deal in one day in one city. Second, a man-made sense of urgency bites customers. Third, it is able to energize large numbers of customers through word of mouth and that energy can be turned into sales. Fourth, an upbeat and enjoyable tone sends ever-refreshing messages to the target market, which is primarily young and tech-savvy. The huge success and easy-to-copy approach of Groupon sparked the entrepreneurial spirit in Asia, where the appetite for consumption that has been unleashed fosters expectations for rosy returns. "They are so successful," said Yeung from ubuyibuy, whose vision is to "provide a comprehensive portfolio of leisure experiences in Asia that meet the rapidly evolving demand of Asian consumers."
However, before tapping potentials from the wider pool, how will the flock of players fare in the battleground of Hong Kong, often regarded as the gateway to Asia? Basically an advertising platform, the attributes of consumers and merchants in the local market will determine pecking order in the tug-of-war. Meanwhile, the effect of social networking sites, which power the snowballing process, is something that cannot be taken for granted.
Perception suggests there is a natural market. Long waits and packed parking lots at major shopping districts suggest Hong Kong people love to go out. Cultural factors enhance the prospects. Gerard P. Prendergast, head and professor of the marketing department at Hong Kong Baptist University, noted that "this marketing trend is also consistent with Chinese culture which tends to emphasize 'group think' - in Chinese culture people often like to follow the behavior of the group and follow what the others are doing."
However, statistics cast a rather dim light on current prospects, as Hong Kong seems to present a bugbear for e-business. According to figures from Internet World Stats, the Internet penetration rate, an indicator measuring the percentage of Internet users among the overall population, stood at 69.2 percent in Hong Kong in December 2009, high above the Asia average of 20 percent and the world average of 26.6 percent. But a closer look reveals a user pattern unfavorable to online purchases. In a 2008 annual survey report on Internet use in Hong Kong by City University of Hong Kong, 85 percent of respondents said they use the Internet for information acquisition, while only 5 percent reported online shopping and only 1 percent for making friends.
The consumer side can be interpreted as both a glass half full and a glass half empty, for merchants, though they can enjoy the benefit of risk-free whole-page advertising which exposes them to pools of buyers which actually can be translated into sales revenue, concerns exist about the willingness of these buyers to join such marketing campaigns. Selection of merchants, or making judgment calls on behalf of consumers, presents a dicey outlook on the lot of group buying websites.
The past month saw most of the featured merchants offering food and drinks, personal care products, accessories, and activities. Attracting retailers willing to provide "unbeatable" discounts for a 24-hour cycle is no easy task. Tyre Li, founder of Pureone, a Hong Kong-based Internet advertising group, thinks low profit margins in the retail industry may lead to a bloody battle over suitable merchants, and a top-notch marketing team is crucial to any organization in the field. "The real nerve-wracking part of the business is to persuade retailers to offer attractive discounts in a non-stop manner," he said.
Unrivalled discounts are blessings for consumers but may end up a curse for merchants. "My concern is that there may be too many sales, which would associate the brand image with heavy discounts," said Daniel Cheung, part-time lecturer at the School of Business of the University of Hong Kong and a marketing veteran with over 16 years of experience. Dou Wenyu, associate professor of marketing at City University of Hong Kong, shared that view. "The consumers attracted are mainly bargain-hunters who are price-sensitive, meaning small merchants whose items are lower in unit price are more likely to approach," said Dou. A small cut from a small pie weighs on the sustainability of the fledging online group buying business in the city. It is reported that the successful model of Groupon takes a 30 percent to 50 percent chunk from each deal.
Though hurdles abound, the idea is widely regarded as good and clever for its success in whipping social network sites into real money-makers. Ubuyibuy gained the attention of over 40,000 consumers on Facebook as of mid July, only three weeks after its launch.
The concept of group buying is not newly-born but rather was put in place 10 years ago by Mercata and MobShop in the US. These later were engulfed when the Internet bubble burst. Groupon, in tandem with the prosperity of social network sites, made great leaps from where the early birds tumbled. It is true that by making use of this tool young and tech-savvy customers are sifted, and free promotion via a click springs up virally, yet from a marketing perspective, both Cheung from the HKU and Dou from CityU raised concerns over brand loyalty. Group buying websites feature different merchants every single day, encouraging members to try cool and new things around the city. The effect may be measurable as a one-hit wonder, but flimsy in the long run. Li of Pureone commented that from a practical approach, heavy reliance on social network sites is a restriction rather than a boon to the expansion of the consumer pool. According to him, the snowballing process will meet tough resistance at a cap of around 100,000 people; however, such a scale can hardly allow a website to make ends meet.
Asked about the viability of the slew of group buying websites storming into Hong Kong, Prendergast from HKBU says "in future we can expect to see more consumers buying online and more consumers involved in online social networks. This will especially be the case with female consumers. So this marketing method is likely to find even more support in the future."
A fiercer scramble for even greater opportunities looms outside of Hong Kong. Yeung from ubuyibuy has a bullish plan in mind, aiming to expand into 10 to 15 more cities in Asia by the end of the year after the latest launches in Hong Kong and Taipei. Yeung emphasized ample resources at hand, suggesting optimism toward long-term prospects. His first forays on the mainland include Beijing, Shanghai, and Guangzhou. Admitting that already over 400 copycats are vying for market share, he observed, "only 1 percent are taking this seriously."
The market now looks like ratatouille. Unlike Hong Kong where a wide range of items is necessary, the mainland offers higher chances for flourishing by focusing on one category, for example, ice cream.
Everyone wants a slice of the cream, but will a copy-and-paste plan work well on the other side of the earth? The HKU's Cheung thinks it is too early to say, but the mainland is definitely the more important market for the future.
(HK Edition 07/22/2010 page2)