Editor's note: A number of commodities saw price hikes in 2010. Among these, soaring prices of agricultural commodities pushed the consumer price index (CPI), the major gauge of inflation, to a record high of 5.1 percent. While some prices have moderated due to government regulatory measures, others are expected to remain high for a longer period.
1. Garlic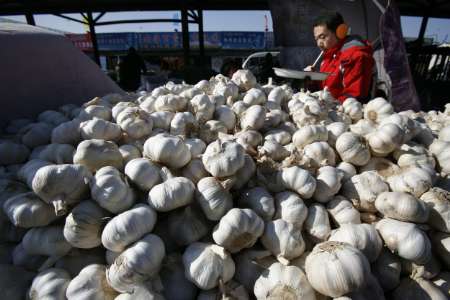 A vendor selling garlic waits for customers at a market in Beijing in this file photo taken in 2008. [Photo / Reuters] 
Affected by weather vagaries, garlic production shrank by about 20 percent at the beginning of 2010, according to industry statistics.
In the meantime, increased exports of garlic and growing demand in the domestic market have fueled price hikes
Garlic prices peaked and surpassed the price of pork across the country during the summer. They have been gradually declining since November.
Related readings:


 Price of fresh garlic rises day by day


 Garlic: Gold for only a few


 Garlic farmers denied due profit

 Govt steps up efforts to curb rising garlic prices

2. Peppers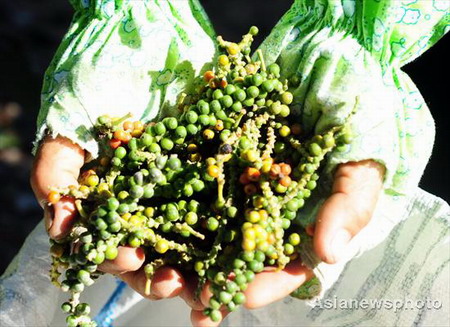 Peppers produced in Qiongzhou, Hainan province. [Photo / Asianewsphoto]
A serious drought in southeastern China, where most of the nation's peppers are grown, has strained the market supply.
In March, pepper prices doubled and even tripled in many cities across China. In Beijing, the price surged more than three times, according to industry data.
Pepper prices jumped around the middle of year, shooting up 10 times to 40 yuan ($6.03) a kilogram from 4 yuan a kilogram in some major cities.
Related readings:


 Peppers sales slump due to lack of demand

3. Potatoes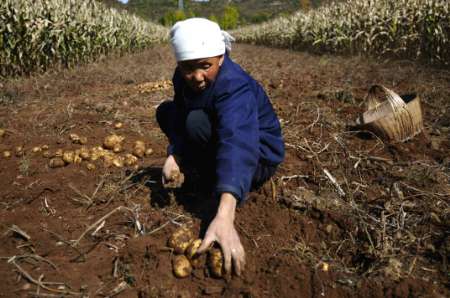 A farmer collects potatoes in a field at a village of Qinyuan county, Shanxi province in this file photo taken in 2008. [Photo / Reuters] 
The price of potatoes has increased 84.5 percent month-on-month since October 2009, according to a report released in April.
While the soaring prices have swelled the wallets of many potato farmers, they have also pushed many starch processing factories to the brink of bankruptcy, domestic media reported.
Related readings:


 Potato brings new wealth to W China


 Potatoes are root of the solution


 China pins food-security hopes on humble potato


 China launches anti-subsidy probe into potato starch from EU


4. Mung beans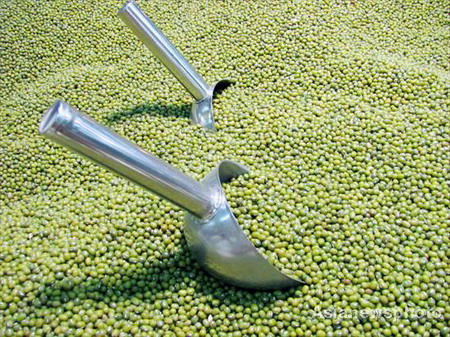 Mung beans in sale in a supermarket in Beijing. [Photo / Asianewsphoto] 
Surging seasonal demand and speculation have pushed the price of mung beans to a peak of 12 yuan a kilogram from 3.5 yuan a kilogram this summer.
In July, in a bid to crack down on hoarding and speculation, the National Development and Reform Committee (NDRC) imposed high fines on those companies trying to gain a stranglehold on the market, with a maximum fine of 1 million yuan.
The price gradually declined over the following two months.
Related readings:


 Speculators drive the prices of mung beans up


 Good harvest is around China this autumn


 Blame it on speculators and hot money


 Battle of the beans


5. Ginger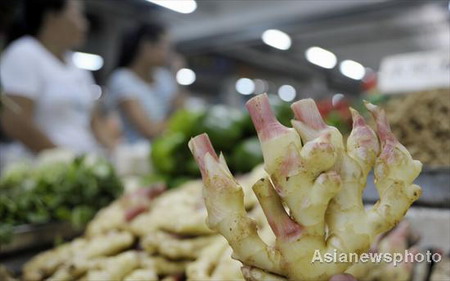 Ginger in a market in Dongyang, Zhejiang province. [Photo / Asianewsphoto]
In July, ginger led the market in price increases. The purchase price of ginger in major production bases has jumped 328.6 percent to 4.5 yuan a kilogram.
The price peaked in the following month at 6.6 yuan a kilogram, increasing 18.2 percent year-on-year, according to industry data. In Jiangsu, Tianjin and some other places, surges in August were as high as 30 percent.
The price further increased by 20 percent to 9.59 yuan a kilogram within 10 days in September in Xi'an, Shaanxi province, according to local government figures.
Related readings:


 Family thinking thrifty to save cash

 Chinese fight against price hikes


 Spike in prices rings alarm in vegetable industry


 Price increase has not helped farmers
 
6. Corn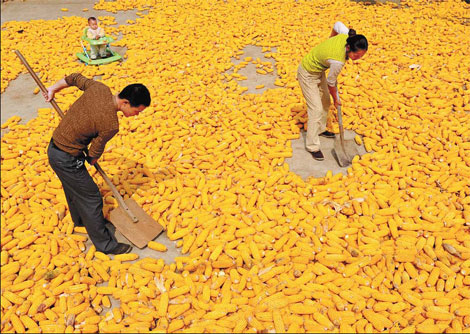 Farmers air corn in Lianyungang, Jiangsu province. [Photo / China Daily] 
Corn prices started to surge in March this year.
In April, the price increases reached such a point that the NDRC and the State Grain Administration launched a corn stockpile auction to calm the situation.
Relevant government agencies implemented a number of polices in the following months to cap the price hikes and crack down on speculation.
According to data released by the National Bureau of Statistics, China's corn output was projected at 169 million tons, increasing 3.1 percent year-on-year by the end of 2010, alleviating expectations of price surges.
Related readings:


 China able to guarantee corn supply: official


 Corn imports set to slow


 Corn imports to help curb soaring prices: NDRC


 China curbs corn auction buying as stockpiles fall

7. Cotton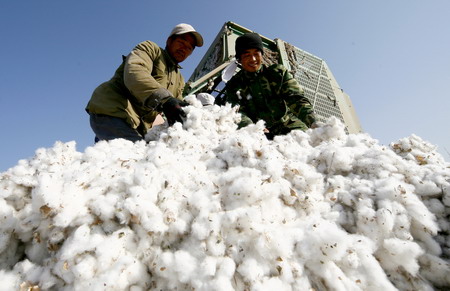 Two workers load cotton for transport in Hami, the Xinjiang Uygur autonomous region, on Nov 3. [Photo /China Daily]
Cotton prices have been growing since the spring, with increased demand and reduced output contributing to the situation.
Rapid price increases occurred in August. Higher raw material and labor costs have put a great strain on the entire clothing industry, with numerous small and medium-sized companies pushed to the brink of bankruptcy.
In September, the price of cotton cloth was reported to have increased by more than 20 percent, and cotton futures jumped to an historic high.
Related readings:

 High cotton price hits cost of clothing


 Cotton prices to extend rally


 Living cost mounts in China as cotton, food prices surge


 Jiangsu's cotton imports surge 280%

8. Vegetables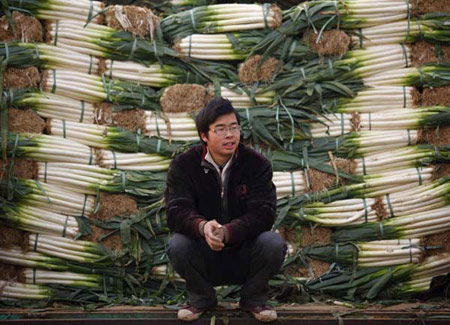 A vendor sits in front of a pile of vegetables as he waits for customers at the Xinfadi open-air wholesale market in Beijing on Nov 23. Traders are also feeling the pressure. [Photo / Reuters] 
Variable weather in major production areas means vegetable prices have been rising since the beginning of the summer.
Propelled by seasonal increases, prices have surged significantly since November, according to data released by the Ministry of Commerce.
In the first 10 days of November, average wholesale prices for 18 types of vegetable in 36 cities surged 62.4 percent year-on-year, said the ministry.
Related readings:


 China's vegetable prices up 62.4% year-on-year


 Low-income groups feel the pinch under soaring prices


 Rising prices foster growing vegetables


 City rooftops become vegetable gardens

9. Sugar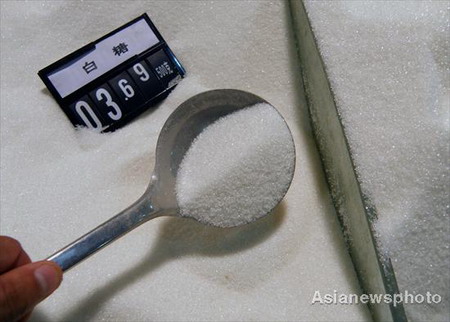 White sugar in sale in a supermarket in Yichang, Hubei province. [Photo Asianewsphoto] 
Sugar surged to more than 6,000 yuan a ton in 2010, compared with no more than 4,000 yuan a ton for last few years. Rapid increases were seen in the autumn.
Hikes were mainly attributed to soaring prices in the international market, reduced domestic processing and speculation, according to industry insiders.
Related readings:


 China to auction State sugar reserves to curb price rises


 China's sugar output to drop 10% amid severe drought


 No sweet solution to sugar shortage


 China to sell sugar reserves to make up possible short supply
10. Chinese Medicinal Herbs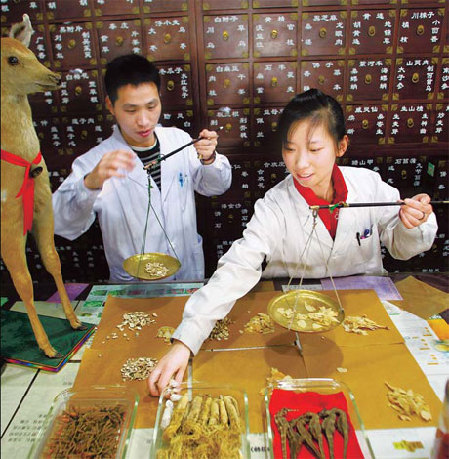 Two herbalists at Hedantang Pharmacy in Chaoyang district weigh TCM ingredients. [Photo / China Daily]
More than a quarter of medicinal herbs used in traditional Chinese medicine have increased in price by between 50 percent and 100 percent in 2010, according to a report released by the Association of Traditional Chinese Medicine in November.
For a small group of herbs, the increase has been more than 300 per cent, said the report. Concerns have been raised over the growing cost of traditional medicine, and pharmaceutical companies were reported to have stopped producing Chinese patent medicines due to the high costs.
Bad weather, rising demand and speculation were regarded as the major reasons behind the hikes.
Related readings:


 Traditional medicine prices are elixir for sellers


 TCM continues to find favor with Chinese


 Qualified herbalist pool dries up in city


 Exports of TCM reaches $1.46b: official