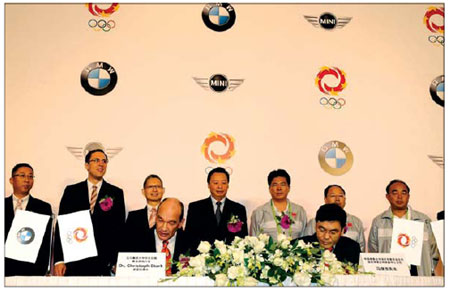 Christophe Stark, president and CEO of BMW Group Region China (front left), signs an agreement making the carmaker the exclusive automobile partner of the Chinese Olympic Committee over the next six years.
BEIJING - Competition will become so acute in China's fast-growing premium car market, price cuts are likely over the long term, according to a top China executive from Germany's BMW Group.
Christophe Stark, president and CEO of BMW Group Region China, said in an interview last week that competition will be "extremely fierce" in China's premium car market.
"Yet in short term, we face pressures from rising costs of raw materials as the official inflation rate in China is now between 3 and 4 percent," he stressed.
He made the remarks last week when the German carmaker signed an agreement as the exclusive automobile partner of Chinese Olympic Committee over the next six years, part of its global Olympics strategy.
"We are excited to become a partner with the Chinese Olympic Committee and the Chinese Sports Delegation. BMW's joining together with the Chinese Olympic Movement is based on the shared values and the common vision," Stark said.
"The Chinese Olympic Movement has won great honor for the country - it reflects the dreams, passion, dynamics and innovation of millions of Chinese. This is perfectly matched with what we are advocating, BMW Joy."
BMW apparently aims to utilize its Olympics strategy to boost its competitiveness among Chinese premium car buyers.
"China will be the biggest market for all luxury brands but it will be a fiercely contested market," Stark said. "We are preparing to succeed in the competition."
BMW now has a plant in northeastern city of Shenyang with Brilliance China Auto with an annual production capacity of 75,000 vehicles. The plant is assembling the 3 and 5 Series sedans.
The carmaker is also building a second plant in Shenyang. Last year, BMW announced a long-term plan to hike its overall production capacity in China to 300,000 units a year.
In response to queries about when BMW's production capacity will hit that mark Stark said the auto icon "wants to be flexible in this big and growing market - we will be flexible enough to meet any kind of market demand".
China is now BMW's third-biggest market after Germany and the US.
In the first three quarters of this year, the group's sales in the Chinese mainland reached 122,000 units, almost double the figure in the same period last year.
BMW's archrivals Audi and Mercedes-Benz are also enjoying robust sales.
China became Audi's top market this year. It announced last month that it aimed to sell a million cars in China over the next three years.
Earlier this year, Mercedes-Benz also revealed an aggressive plan to boost its China sales to 300,000 units annually by 2015 from nearly 70,000 units last year.