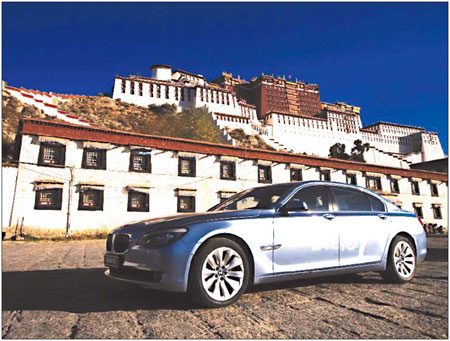 China is already the largest market for the BMW 7 Series. [Photo/China Daily]
Soaring sales and sharply escalating competition over the coming decade
Lhasa - BMW forecast last week that China will become its top market in the next decade at the same time competition sharply escalates.
"In the next five to 10 years, China will be the biggest market for all brands and become a big area of competition," said Christoph Stark, president and CEO of BMW Group Region China.
Stark made the remarks in the capital of the Tibet autonomous region, where the company organized a brand experience event for its flagship 7 Series saloon.
The German luxury automaker sold nearly 122,000 cars on the Chinese mainland in the first nine months this year, almost doubling the figure in the same period last year.
China surpassed the United Kingdom at the end of June to become BMW's third-largest market.
The country is also the largest market worldwide for the BMW 7 Series.
But Stark is keeping a cool head amid the stunning growth.
To view 2010 as an average year would be wrong, he said, noting the premium segment will indeed see continued growth in China, but not at the same fevered pace.
The nation's urbanization offers vast long-term opportunities to the automotive industry, according to the company's view.
"The most important thing is to be highly flexible and take chances, but also be prepared for some possible downturns in the market," Stark said.
The industry veteran said China's auto market is in "a fluid kind of situation".
An example is recent discussions by Beijing city planners about reining in the number of new cars to ease traffic congestion.
As well, China's top legislature is considering a proposal to raise the tax on cars with large engines.
According to the draft law, engine displacements of 4 liters and above would be taxed 3,600 to 5,400 yuan, much more than the previous maximum of 660 yuan.
Stark said such moves are certain to have an effect on the market, which must be monitored.
He said the company will "further grow the roots" by making a strong connection with customers and deeper, sustained localization of the brand.
"For us the most treasured thing is the brand," he said.
Lu Yi, vice-president of sales at BMW China Automotive Trading Ltd, said "the brand is like an iceberg and you only see the top above the ocean - while the huge base under the surface and out of sight takes hard work every day by tens of thousands of staff members to consolidate".