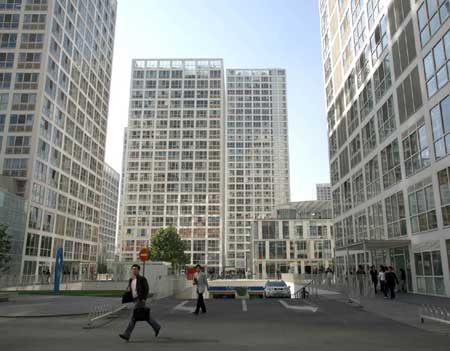 Pedestrians at the Jianwai Soho complex in Beijing. Doug Kanter / Bloomberg 

Property deals show robust increase in first half of September
BEIJING - Expectations of further policy curbs aimed at the real estate market are gaining ground after property transactions in most Chinese cities rebounded strongly this month even as home prices continued to remain high.
Statistics issued by the China Index Academy have shown that sales of completed apartments in Beijing rose 98.1 percent last week, compared to the previous one. Floor space sold in Beijing, Dalian and Sanya between Sept 6 and 12 jumped by 70 percent week-on-week.
According to real estate agency Homelink, property transactions in Guangzhou, Suzhou and Shenzhen have all been on the up in the first half of this month, with Guangzhou's transaction volume climbing 37 percent month-on-month.
Property prices too have shown no sign of tapering off. Yahao Real Estate, a brokerage firm, said in a recent report that the average price of 1 square meter of property in Beijing touched 19,897 yuan ($2,965) during the first half of this month, compared to 14,002 yuan per sq m during the same period last year.
Stringent policies announced in April have now been factored in and expectations of falling property prices have been muted.
In fact, an increasing number of Chinese think home prices will rise further, according to the quarterly survey released on Sunday by the People's Bank of China.
Out of 20,000 consumers surveyed, 36.6 percent said the growth in home prices would accelerate, up from 29.4 percent in the previous poll published in June.
According to the survey, 72.2 percent of consumers thought current property prices were "too high and hard to accept", while only 15.6 percent said they planned to buy an apartment in the next three months.
According to the National Bureau of Statistics, property prices in China's 70 major cities grew by 9.3 percent in August, down from the 10.3 percent growth seen in July, the slowest pace so far this year.
However, the month-on-month figures for property prices remained unchanged for two months after witnessing a 0.1 percent decline in June, the first decrease in 16 months.
Gao Ting, managing director of UBS Securities Co Ltd, said such a situation could hardly be expected to continue.
"The market will soon choose a clear direction, either a further increase or a drop on a monthly basis. A strong rebound in both prices and transactions may probably trigger a new round of tightening in the sector," said Gao.
The central government launched a series of measures in April, including higher down payments, to deter speculative property buying.
According to Gao Shan, deputy general manager of Yahao Real Estate, a new round of tightening measures could include stricter mortgage policies for home buyers, squeezing property developers' cash flow and further increasing land supply.
Zhang Yue, chief analyst at Homelink, thinks the government may strengthen efforts to revitalize the existing supply of homes, or it could further tighten credit to property developers, thus pushing prices lower in order to facilitate quicker sales.
Jiang Dingzhi, vice-chairman of the China Banking Regulatory Commission, said at a forum in Shanghai last Saturday that the regulator was closely monitoring trends but was not yet planning fresh steps aimed at tightening policy.