Ten Chinese news websites hope to be listed on the stock market, according to the influential paper Shanghai Securities News.
These include the websites of broadcaster China Central Television, Xinhua News Agency, People's Daily and other media outlets. One or two of them may complete their IPOs this year.
What ruffles me is not the listing itself. In a market economy, nothing is more unsurprising than companies seeking to go public, and it should apply to China, too, although some argue it is not a purely free market.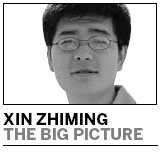 Indeed the integrity of China's stock market would be jeopardized if the reports were true that the government and stock regulators are behind the prepared IPO of those websites. It said the Publicity Department of the Communist Party of China Central Committee and the China Securities Regulatory Commission (CSRC) are pushing the process.
It reminded me of the launch of China's stock market in the early 1990s, when it was not only seen as a financing platform for enterprises with sound performance but short of money, but a de facto channel for financing, especially State-owned enterprises, many of which were bogged down in financial difficulties and thirsty for money to conduct desperately needed restructuring.
In the past 20 years, China's stock market has nevertheless played a positive role in supporting the corporate sector and overall economic growth, but it has also become a target of criticism, for example, for its failure to keep itself free of administrative intervention.
Regulators seem to be doing their best to sort out market irregularities and we certainly should not expect too much from such a young market, but if we truly want it to fare well, we must ensure, in the first place, it operates on a market-oriented basis.
In this sense, the planned listing of those news websites is dubious as it goes against the rule of the market to decide which companies are going to get listed and which are not.
In other words, market regulators should only decide whether those companies are up to the standard and guard the market to ensure it is clean; but if they "push" for the listing of a selected number of companies, it would be dangerous for the market.
So far, the CSRC has not made any clarification. It should immediately make its stance clear to investors.
China's stock market boasts a capitalization of about $3 trillion, already the second or at least third largest in the world, depending on different estimates.
The larger it grows, the more cautious regulators should be because this concerns the interests of growing numbers of investors.
xinzhiming@chinadaily.com.cn