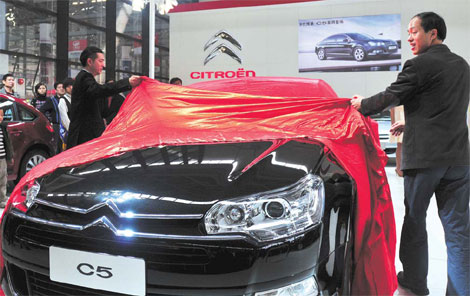 New Citroen C5: The brand has a 'comparatively short lineup' in China. [China Daily] 
French carmaker takes another partner while still in fractious relationship
Beijing: PSA Peugeot Citroen signed a letter of intent on May 6 with China's No 4 automaker Chang'an Automobile Group to create a 50-50 joint venture.
The partnership will make efficient light commercial vehicles and passenger cars in China, the French carmaker said without providing details.
Related readings:

 Peugeot to build 3rd China plant


 Peugeot-Citroen mulls JV with Chang'an Auto


 Chang'an in talks to become Peugeot's second partner


 Peugeot Citroen recalls 263 cars in China
The move would seem to give a PSA Peugeot Citroen a new foothold in the world's biggest vehicle market, where it lags far behind a slew of bigger rivals like Volkswagen and General Motors (GM).
Yet finding a new partner is likely easier than scoring a triumph in China for the French carmaker if it failed to learn from its lackluster performance over the past 18 years.
Along with Volkswagen Group and General Motors, the company was among the first foreign carmakers to arrive in the Chinese market. It established a joint venture in 1992 with Dongfeng Motor Corp, China's third-biggest auto group.
But the French carmaker's relations with both its partner and the market have been anything but smooth.
Last year, it moved 272,000 cars in China, accounting for a tiny 3 percent of the nation's passenger car market - less than one-fifth of what Volkswagen achieved.
Perhaps worse, it is outsold by latecomers Toyota, Honda, Nissan and Hyundai, and even many of China's indigenous brands such as Chery, Geely and BYD.
Fiasco unfolds
Reasons for PSA Peugeot Citroen's fraught position in China include its arrogance, insufficient localization and poor branding.
The French carmaker's strategic conflicts with its joint venture partner Dongfeng include repeated rejections of Dongfeng's desire for new and more suitable models.
Over Dongfeng's objections, the French company brought an aging Citroen Xsara compact to the joint venture in 2003. Production of the 2-liter model was halted in 2005 due to meager sales. Chinese customers bought fewer than 15,000 Xsaras during its local production life.
PSA Peugeot Citroen also failed to modify new models produced with its partner Dongfeng to meet the tastes of increasingly sophisticated Chinese customers.
A friend of mine recently tested a newly launched mid-sized Citroen C5 sedan. He found a small, but unacceptable, problem on the model.
"When I drove the C5 to a gas station to get it filled, I had to go out of the car to open the lid of its fuel tank with the key - and it's a car worth around 200,000 yuan," he complained. He decided to go for another brand.
Even the French carmaker's hot-selling models in Europe - the Peugeot 206 and Citroen C2 subcompacts - suffer sluggish sales in China.
As well, Peugeot and Citroen both lack a clear brand image among Chinese motorists.
In contrast many other carmakers have already established their brand image and values among local customers - such as the durability of Volkswagen, Nissan's fuel efficiency and the sportiness of Ford.
The French carmaker's China-made cars also have low locally made content, which pushes up costs and erodes price competitiveness with comparable models from GM and Japanese brands.
Now with a second partner in China, there is doubt whether PSA Peugeot Citroen can balance its relations with Chang'an and Dongfeng, both of which have strong government support and the backing of other foreign collaborators.
'Mission impossible'
Although the French carmaker said in a press release last week that its new joint venture with Chang'an will complement all parties' existing joint ventures in China "without direct competition", it as almost a "mission impossible" over the medium and long term, especially with PSA Peugeot Citroen's comparatively short lineup.
Dongfeng, which has already joined forces with Honda and Nissan, will no doubt be distressed by the French carmaker's infidelity.
Dongfeng is one of the leaders in China's light commercial vehicle sector, where PSA Peugeot Citroen plans to cooperate with Chang'an, a major minibus producer.
The French carmaker's joint venture with Dongfeng now has an annual production capacity of 450,000 cars in central city of Wuhan, much of it unused.
Claude Vajsman, the French carmaker's China CEO, said last week that the company expects the new tie-up with Chang'an to help it reach its target of selling 2 million vehicles annually and have 10 percent of the overall auto market in China by 2020.
Without mending its ways in China and keeping better house with Dongfeng, the goal is about as realistic as a fantasy in a French romance.
The author is a senior auto editor at China Daily.