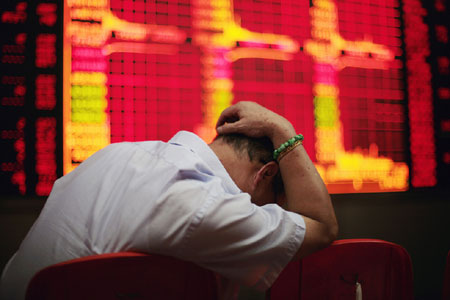 For individual investors, experts say, now is not a good time to invest in property-related stocks since they may continue to fall in the short term because risks in the upstream and downstream companies in the industry have not been fully overcome. [Kevin Lee / Bloomberg]
Analysts say tough government measures are to blame for slump
Beijing - Chinese property stocks may face further decline amid short-lived rallies despite the current low valuations created by tough government policies, analysts said.
The real estate sector, the worst performer in the A-share market, showed signs of a potential rebound last week after declining nearly 30 percent since April. However, Ou Ruiming, an analyst at Guosen Securities, said the downward trend was unlikely to change in the near term as policy risks have not been fully digested by the market.
"Any rally is unlikely to be sustainable in the short term and the current low valuations do not necessarily signal a buying opportunity," Ou said.
He said the property sector may continue to fall in the short term because risks in the upstream and downstream companies of the industry have not been fully overcome.
Share prices of the real estate sector took a nosedive after the government rolled out a series of tough policies to rein in rapidly rising property prices. They included a ban on loans for third home purchases and raising down-payment requirements for second home mortgages.
Meanwhile, many domestic funds have significantly cut their holdings of property stocks with the National Council for Social Security Fund reducing its by as much as 20 percent in terms of market value in the first quarter this year, according to its first quarter financial report.
Related readings:


 'Measures to cool property already working'


 Risky property market


 Property developers start to feel the pinch


 Evergrande leads in cutting property prices
The policy tightening also reversed the overall market sentiment as the benchmark Shanghai Composite Index hit an eight-month low last week after declining 18 percent since January.
It is now ranked the fifth worst performing stock market globally after debt-troubled European countries including Greece and Portugal.
While many investors fear that the government's aggressive measures to cool the property market could trigger a slowdown in the overall economic growth, some analysts still take a long position on the real estate sector.
"China's ongoing urbanization process and the massive railway expansion would still support the property sector in the long run," said Jing Ulrich, chairwoman of JP Morgan's for the country's equities and commodities.
"But it may take two or three months for investors to become optimistic about property stocks and investors should pay close attention to any policy change in the following weeks," she added.
Dong Xian'an, chief economist at Industrial Securities, expressed optimism in the market as he felt that the worst scenario of a double-dip recession was highly unlikely to happen.