BEIJING - Environmental protection and the maintenance of local traditions should be given priority in the reconstruction of earthquake-ravaged Yushu, said experts who had experience in rebuilding areas hit by the Wenchuan quake on May 12, 2008.
"Any good solution for Yushu's reconstruction should include due consideration of the natural and cultural characteristics there," said Li Dihua, assistant professor of the graduate school of landscape architecture at Peking University.
Pilot reconstruction started on Tuesday in the villages of Trangu and Ganda near the epicenter of Gyegu town prior to the release of a comprehensive reconstruction plan, according to the rescue and relief headquarters.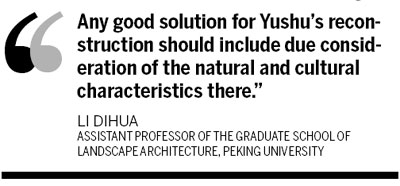 Luo Huining, governor of Qinghai province, said earlier that the government will rebuild the county into an eco-friendly attraction and business destination within five years.
"The rebuilding process should be local and adaptive. In fact, local people know best," said Li, adding that it is very important to draw from the experiences of the local Tibetan people who have inhabited the area for thousands of years.
Li's idea was echoed by Tao Tao, chief planner of WWW5A Werkhart International, a leading architecture design company.
"The reconstruction should take local residents' lifestyle and culture into account. And the style of the structures must be in line with Tibetan characteristics so that they can match the local culture and traditions," said Tao.
Considering Yushu's location and ethnic culture, its rebuilding plan will differ greatly from that of Wenchuan.
Related readings:


 Let Yushu Tibetans rebuild organically


 Yushu begins to rise from the ruins


 Reconstruction starts in quake-hit Yushu


 China raises $637 million for Yushu

"With such a high altitude and comparatively low population density, the construction style and materials should be different from that normally adopted in third-tier cities.
Using safer and environment-friendly materials should be a major issue for planners," Tao said, adding that non-biodegradable materials should not be adopted in Yushu, given its fragile ecological system.
The Tibetan Autonomous Prefecture of Yushu is at the headwaters of three major rivers - the Yellow, the Yangtze and the Lancang rivers.
As an important nature conservation area in China, Yushu's ecological system is pretty fragile.
"Environmental recovery is a really slow process, and the best way to speed up the process is to reduce people's intervention," said Zhang Pengyi, division director of environmental chemistry at the department of environmental science and engineering of Tsinghua University.
A team of experts sent by the Ministry of Environmental Protection and the Qinghai local environmental bureau has gone to Yushu to carry out a geological survey and an ecological restoration evaluation, after which they will put forward suggestions for the reconstruction, according to Zhao Haoming, director of Qinghai environmental protection bureau.