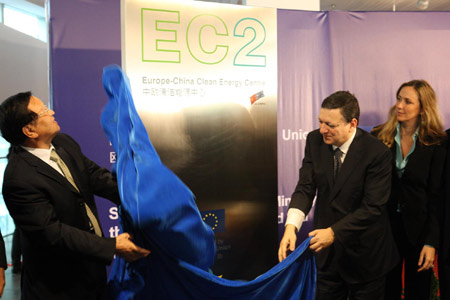 Jose Manuel Barroso, president of the European Commission, and Zhang Guobao, head of the National Energy Administration, unveil the plaque to open the Europe-China Clean Energy Center in Beijing on Friday. [China Daily]
Barroso opens Beijing-based clean energy research center
Beijing - Chinese and European officials on Friday hailed the important role the clean energy sector is playing in bilateral trade as the two sides step up the fight against climate change.
"We are very happy to see very important prospects for the development of many concrete projects between China and the EU," Jos Manuel Barroso, president of the European Commission, said at the launch ceremony of the Europe-China Clean Energy Center in Beijing on Friday.
He was speaking a day after a meeting with Premier Wen Jiabao during which the two leaders discussed issues including China-EU relations and climate change.
Based at Tsinghua University, the center is a China-EU cooperation project, which, with more than 12 million euros investment from the EU, aims to propel technical transfer and communication between China and Europe.
Major projects will include the use of clean coal, sustainable bio fuels, renewable energy resources, energy efficiency in energy consumption and efficient distribution systems.
"The center is an another step in the common efforts between China and the EU in shaping a more sustainable, environmental friendly and efficient energy sector," said Barroso.
China is committed to reducing carbon intensity by 40 to 45 percent by 2020 based on the 2005 level and raising the share of non-fossil fuels in total energy consumption to 15 percent by 2020.
To that end, clean energy development will top the agenda of the 12th Five-Year Plan (2011-15) for the energy sector. Both the goals for emission reduction and the rise of non-fossil energies require long-term efforts and early deployment, said Li Junfeng, deputy director-general of the Energy Research Institute under the National Development and Reform Commission.
"Non-fossil energies should at least reach 13 percent of total energy consumption by the end of 2015 in order to achieve the 2020 goal," said Li.
"We are adopting a series of measurements to accomplish the goals and China hasn't lagged behind in developing new energy," said Zhang Guobao, vice-minister of the National Development and Reform Commission.
China is making rapid progress in promoting renewable energy. By the end of 2009, China had 197,000 megawatts of installed hydroelectric power, ranking No 1 in the world.
The nation's wind power capacity increased by 9,000 megawatts in 2009 to 22,000 megawatts. Meanwhile, China is building 23 nuclear reactors, accounting for 40 percent of the 56 reactors under construction in the world, according to Zhang, who is also the director of the National Energy Bureau.
But China remains weak in technological innovation. Many core technologies are transferred from developed countries, with the EU being the biggest source.
Related readings:

 China, EU unveil new clean energy project


 China leads in clean energy


 Sufficiently supplied clean energy


 China tops US in spending on clean energy
"Clean technologies such as wind, solar and nuclear power comprise a relatively large part of transferred technologies from the EU and have become an important area of bilateral trade," said Zhang.
China needs to make more efforts to optimize its energy structure and adopt clean coal technologies as coal still accounts for 70 percent of China's overall energy consumption, he said.
The EU transferred about 30,000 technologies to China by the end of 2009, according to Zhang.
Japan and the United States lagged behind in that respect, each transferring about 10,000 technologies to China over the same period, added Li Junfeng.