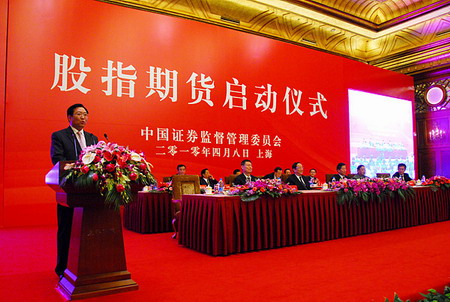 The launching ceremony of China's stock index futures in Shanghai, April 8, 2010. [Xinhua]
SHANGHAI - A ceremony was held Thursday in Shanghai to mark the debut of stock index futures on the Chinese mainland, which observers believe was a step forward in the city's efforts to develop itself into a risk management center for the whole Asia-Pacific region.
Official trading in the stock index futures, which is the first financial futures product on the mainland, will begin in eight days at the China Financial Futures Exchange in Pudong of Shanghai.
Related full coverage:


Stock Index Futures Launch in China
Related readings:


 Photos: China launches stock index futures


 Stock index futures to start trading on April 16


 Overseas institutions to trade China's stock index futures


 Four questions about stock index futures


 China launches stock index futures trading accounts
Previously investors could not hedge their interests when stock prices fell, Zhu Yuchen, general manager of the financial futures exchange, told Xinhua Thursday.
However, industry analysts believed traders would keep a wait-and-see attitude towards the high-risk financial product.
Yong Zhiqiang, senior derivatives analyst with Haitong Securities, told Xinhua that the Chinese mainland had learned from overseas financial futures markets and its' own commodity futures markets before it built the mechanism.
"The mechanism will ensure healthy development of the stock index futures," Yong said.