Educational book-finding service proves to be a big hit with bosses
BEIJING: He created a business that is committed to bringing value for corporate executives or leaders of institutions, helping wise men from all walks of life find the right books from thousands of choices on better management and operational activity.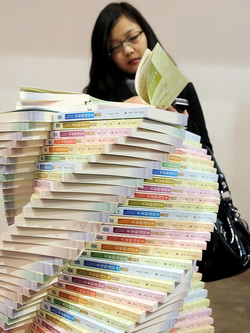 A woman reads a book behind a huge pile of tomes at a bookstore. Li Yueqing, founder and also general manager of Shanghai Wingsbook Co Ltd, said he was ready to provide suggestions for his customers and help them "wing" their way when they own the right books. [CFP]
H e named it Wingsbook, implying you could "wing" your way when you own the right books. And his name, Li Yueqing, has been resounding around the big State-owned companies such as Haier, China Telecom and COFCO, since the establishment of his enterprise.
"Wingsbook is not simply a book seller, but a professional book selector and provider," said Li, founder and also general manager of Shanghai Wingsbook Co Ltd.
"We try to provide the most valued books for executives in need," he said.
Well educated, upright and shrewd is how the Shanghai native comes across. He enjoys a good reputation among China's business schools. He was one of the three founders of China Europe International Business School (CEIBS), one of the top two Chinese business schools and also recognized as an extremely influential business school in Asia. He served there as director of the Executive Development Program for almost a decade.
But in 2004, he gave up the respectable job and an alluring salary, setting up the book company, when Li noticed it was the right books, rather than a business school, that could eventually help an enterprise become great.
"A business school could only develop an excellent leader for an organization, but books could train and have an impact on a batch of people beyond the leader himself, from the high to the low," he said.
"An organization cannot turn great until the majority of staff within it are excellent."
Still a small business
Related readings:


 Beijing's best-seller lists no open book


 Open up education system for reform


 Money is simply textbook answer to education woes


 Musical feast presented at 2010 CEIBS Alumni New Year Concert

After six years of operation, sales of Wingsbook are still small but that is not a concern for Li. "China is a developing nation. The Chinese government needs learning, and all kinds of organizations operating in China need learning. Wingsbook provides them with the platform to grow better and stronger," Li said.
In 2009, Wingsbook's sales revenue grew by 90 percent from a year earlier to more than 40 million yuan, and that figure is expected to double within two years.
The business model for Wingsbook has been included in the corporate case study list by the Wharton School at the University of Pennsylvania, the world's leading business school. Many private equity owners and venture capitals including Legend Capital and Hony Capital are said to want shares in the company.
"We will not consider fundraising until the size of the business is big enough," Li said.