January 19, 2010. Shanghai -- This evening's 2010 CEIBS Alumni New Year Concert: "Wison Night," held at the Shanghai Oriental Art Centre, presented a musical feast by the Shanghai Philharmonic Orchestra under the baton of acclaimed conductor Mr. Chen Xieyang.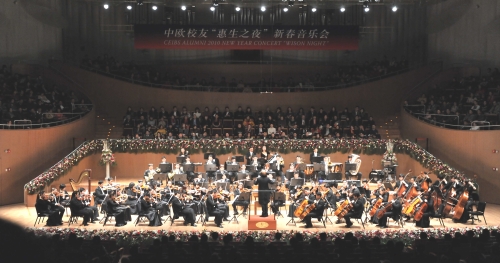 Acclaimed conductor Mr. Chen Xieyang led the orchestra.
The annual event, organized by the CEIBS Alumni Association and co-hosted by the CEIBS Alumni Association Shanghai Chapter, was attended by an impressive number of CEIBS alumni, school officials, staff, students, corporate partners and the media. Among the VIPs were: - CEIBS Executive President, Vice Chairman of Shanghai Committee of the Chinese People's Political Consultative Conference, Zhu Xiaoming and Mrs Zhu Xiaoming - CEIBS Honorary President Liu Ji and Mrs Liu Ji - CEIBS Dean and Vice President Rolf D. Cremer and Mrs Cremer - CEIBS Vice President and Co-Dean, Zhang Weijiong - Ms Yu Yuli, the wife of former CEIBS President Li Jiagao - Ms Wang Weiqin, the wife of former CEIBS President Zhang Guohua and - Executive Vice Chairman of CEIBS Alumni Association, Chairman of Shenzhen Mindray Bio-Medical Electronics Co., Ltd. Mr. Xu Hang
The hosts for the evening were EDP alumnus Luo Nianci, EMBA student Jennifer Rothman, as well as MBA 2008 students Devon Nixon and Margaret Kan.
In the first half of the concert, the orchestra performed classical masterpieces such as: - "Ode to the Red Flag" by composer Lv Qiming - Excerpts from the ballet "Swan Lake", one of Peter Tchaikovsky's most famous pieces - Overture of the operetta "Light Cavalry" by Franz von Suppe - and The Blue Danube Waltz, which was originally composed by Johann Strauss II for the 1873 Vienna World Expo.
For the second half of the evening, the performances were: - Overture of "The Bat" by Johann Strauss II - Theme music from the film "Somewhere in Time" by John Barry - Memory -- the theme song from Andrew Lloyd Webber's acclaimed musical "Cats" - Jasmine Flower, a Jiangsu folk song arranged by Xi Qiming and Ye Guohui - and a collection of works from another of Andrew Lloyd Webber's celebrated musicals "The Phantom of the Opera".
After the stirring performances, the evening drew to a close with school officials joining the orchestra and hosts on stage to bid everyone farewell and all the best for 2010, the Year of the Tiger.