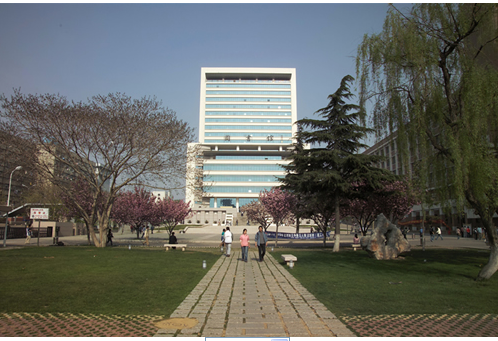 Qingdao Technological University is located in the beautiful costal city of Qingdao. It was found in 1953 and formerly known as Qingdao Institute of Architecture and Engineering.
Qingdao Technological University is a comprehensive university with up-to-date research and development in the subjects of science, engineering, economics, management, art, and law. The University, which places an emphasis in the fields civil, environmental, and mechanical engineering, provides bachelor degrees, master degrees and PhD programs.
Over the past 50 years, the university has formed an integrated advanced educational system for special field, postgraduate, master, and doctorate studies. It has graduated nearly 60,000 advanced qualified personnel in the fields of engineering, science and technology, research, and management.
The pattern of "one university, three campuses" was formed for running the university. The Sifang campus is located in the urban district of Qingdao. The Huangdao campus is located in the Economic and Technological Development Zone of Qingdao, and the Feixian campus is located in the Lunan Scientific Ecological Area of the Economic and Technological Development Zone in the eastern suburbs of Feixian county of Yimeng. The university grounds cover about 1.463 million square meters Qingdao Technological University has more than 1,847 faculty members, of which there are 1171 full-time teachers with the following credentials: 171 with doctor's degrees, 554 with master's degrees, 133 professors, 348 associate professors, 2 Tai Mountain scholar posts, 4 academicians of the Chinese Academy of Engineering, 6 foreign academicians and experts, 23 doctorate supervisors, and 25 teachers who enjoy the special allowance from the State Council. Curricula are offered for students majoring in doctor, master and bachelor degrees with total student numbers of 19,147.
The university consists of 18 schools and 1 college. They are as follows: Schools of Architecture, Arts, Automation Engineering, Automobile and Traffic, Business, Civil Engineering, Communication and Electrical, Computer Engineering, Economics and Trade, Environmental and Municipal Engineering, Foreign Languages, Humanities and Social Science, International, Management, Mechanical Engineering, P.E. Education and Science, the College of Adult Education and Higher Vocational and Technical Education and Qindao College. There are 2 PhD programs, 33 MA programs, 53 BA programs; 18 provincial priority disciplines, laboratories and research centers of engineering technology, and 21 university-level research institutes. The library has a collection of 1,430,000 books and 500,000 kinds of electronic books.
Qingdao Technological University possesses a large number of high-level teachers and researchers. It has accumulated considerable experience in cultivating graduates and postgraduates through establishing a personnel system to develop teachers and researchers. It is active in scientific research while also giving priority to teaching. Since 2000 the University has undertaken 16 projects of teaching reform at provincial level, won a second prize for National Teaching Achievement and 32 prizes for Provincial Teaching Achievement, and has published 155 textbooks. Over 250 scientific research projects have been undertaken for the National "973" and "863" Key Projects, Principal Key Projects and for all kinds of subjects for the National Natural Science Funds and 890 macro projects of enterprises' trust and social service. More than 150 achievements have been transferred or adopted, and academic essays, monographs and works referred to by SCI, EI, ISTP are on the rise year after year.
How to Apply
International students who intend to study at Q-Tech may contact the International Office of Q-Tech for the brochure and application forms. Q-Tech is responsible for the enrollment and management of international students. Group registration is especially welcome.
1. Self-financed students
First, the applicants should ask for the application forms from the International Office of Q-Tech or download the forms from the website. Second, personal information about the applicants must be filled in using block letter, and the application form, tuition fee, and other certificate materials should be sent to International Office at least one month before the opening day start of the school.
Third, any applicant admitted by Q-Tech will receive an Admission Notice, and Form JW202 (Visa Application Forms for Foreigners) from the International Office. The applicant admitted should bring the Admission Notice, Visa Application Form for Foreigners to the Embassy or Consulate of the People's Republic of China and apply for an X visa, and should have medical examinations in a hospital appointed by the Embassy or Consulate of the People's Republic of China. The medical examination must cover all the items listed in the Physical Examination Record for Foreigner, and those who shall be in China for less than 6 months may apply for "F" visa, and needn't undergo a medical examination.
2. International students under Chinese government scholarship program
Applicants may apply to China Scholarship Council (CSC) through the relevant authorities of their home countries.
Enrollment Categories and Main Programs of Study
Chinese Language and Culture Course
This course is taught in Chinese and is composed of four study levels: Elementary Level (A), Elementary Level (B), Intermediate Level (C, D), and Advanced Level (E), offering the following courses: Intensive Reading, Spoken Chinese, Reading, Listening Comprehension, Chinese Culture, Chinese Writing, and Chinese Newspaper and Periodicals.
Summer Chinese Language Course
This is divided into Elementary Level, Intermediate Level, and Advanced Level, offering the following courses: Comprehensive Survey of Chinese Language, Spoken Chinese, Listening Comprehension, Chinese Culture, and Reading. These courses are held in Chinese.
Activities: Laoshan Mountain tour, Sightseeing by boat, Visiting Qingdao Brewery and Lantern Festival etc. (Expenses are excluded)
Undergraduate Program In English
Computer Engineering
Undergraduate Program In Chinese
School of Architecture: Architecture; Urban Planning; Resources Environment and Urban-rural Planning
School of Civil Engineering: Civil Engineering; Material Science and Engineering
School of Mechanical Engineering:Mechanical Design, Manufacturing and Automation; Industrial Design; Model CAD/CAM; Observation and Control Technique and Instruments
School of Environmental and Municipal Engineering:Environmental Science; Water Supply and Sewage; Architectural Environment and Facilities Engineering; Environmental Engineering
School of Vehicle and Traffic Engineering:Traffic Engineering; Traffic and Transportation; Security Engineering; Vehicle Engineering
School of Computer Engineering:Computer Science and Technology
School of Communications and Electronic Engineering: Electronic Information Engineering; Communication Engineering; Electronic Information Science and Technology
School of Automotive Engineering: Automation; Electricity Engineering and Automation
School of Business:Accounting; Marketing; Financial Management; Electronic Commerce; International Commerce
School of Economics and Trade:Statistics; International Economics and Trade; Economics
School of Management: Industrial Engineering; Engineering Management; Management of Land Resources; Information Management and Information Systems; Logistics
School of Sciences:Mathematics and Applied Mathematics; Information and Calculating Science
School of Arts: Arts Design; Painting; Fashion Design and Engineering
School of Foreign Languages: English; Japanese; Korean
School of Humanities and Social Science: Social Work; Advertisement
Graduate Programs
Architectural Design and Theory; Architectural History and Theory; Structural Engineering; Soil Engineering; Natural Disaster Prevention and Alleviation Engineering; Bridge and Tunnel Engineering; Geological Engineering; Heating, Gas Supply, Ventilation and Air-conditioning Engineering; Environmental Engineering; Municipal Engineering; Mechanical Design and Theory; Vehicle Engineering; Mechanical Manufacturing and Automation; Engineering Mechanics; Computer Application Technology; Accounting, etc.
Doctoral Programs
Mechanical Design and Theory; Structural Engineering; Soil Engineering; Environmental Engineering; Heating, Gas Supplying Ventilation and Air-conditioning Engineering.