SHANGHAI - China's top steelmaker Baoshan Iron & Steel Co Ltd (Baosteel) on Thursday said the existing term pricing system for iron ore does not benefit steel and iron ore companies as ore supplies have become tight.
Xu Lejiang, chairman of Baosteel, said the steelmaker is now diversifying its iron ore sources in Africa, Canada and South America to tide over the tight supply situation.
The company also feels that diversification is a better option as it no longer has that much of a say in the pricing negotiations.
"Adjustments (to the pricing system) should be made as it's no longer in line with the current situation," said Xu.
Suppliers alone should not fix ore prices, said the chairman. The top three iron ore suppliers should look to align the pricing mechanism, failing which the negotiations may reach a dead end.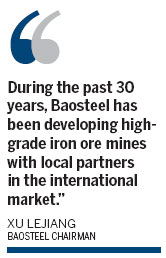 Clarifying his viewpoint, Xu said that Vale is in favor of a quarterly pricing system, while BHP Billiton wants to price its products based on an index.
Rio Tinto wants to fix the prices on a quarterly basis, Sam Walsh, head of the company's iron ore business said in an interview in Singapore on Wednesday.
Xu said it is important for steel companies to diversify their iron supplies as it will help them to have a bigger say in the pricing talks and also help break the monopoly of the big three miners.
"During the past 30 years, Baosteel has been developing high-grade iron ore mines with local partners in the international market," said Xu in his speech to the Shanghai International Shipping Forum 2010.
The steelmaker has already set up many joint ventures abroad, and does not intend to stop its exploration for ore resources, said Xu.
In May 2001, Baosteel established a mining company in Brazil with mining group Companhia Vale de Rio Doce (Vale), with an annual output of 6 million tons of high-grade iron ore.
Related readings:


 Baosteel may buy into EU peers


 Baosteel says 2009 net profit falls 11 percent


 Baosteel names new iron ore negotiator


 Baosteel increases February manufacturer prices
In 2002, Baosteel bought a 46 percent stake in a co-funded mining company with a subsidy of Rio Tinto. That venture is expected to yield 10 million tons of iron ore every year.
In October 2009, Baosteel purchased a 19.99 percent stake in Australian coal miner and iron ore explorer Aquila Resources for A$285 million ($260 million).
"Over the next few years supply will exceed demand in the steel market. It is also an opportune time for Chinese steel makers to consider buying iron ore mines and forming new steel companies abroad, Xu said.