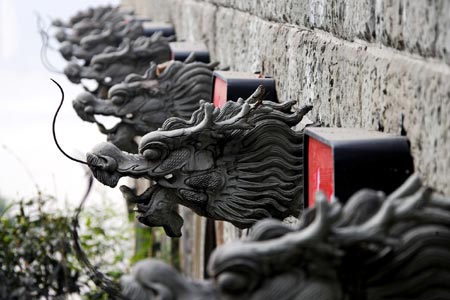 Stone carvings of dragon heads on a wall in Chongqing municipality. The southwestern city is among several first and second tier cities across the country that plan to head local economic growth with dragon-like tenacity over the next few decades.[China Foto Press]
New megacities will witness 325 million more people moving to the urban environment from the countryside, report Andrew Moody and Lan Lan in Beijing
Vast Megacities - the like of which have never been seen in the world before - could pave the way to a cleaner environmental future for China, according to a leading environmental lobby group.
By 2025, China will have eight giant cities - Beijing, Shanghai, Chengdu, Chongqing, Guangzhou, Shenzhen, Tianjin and Wuhan - with a population of more than 10 million each, according to international management consultants McKinsey & Co.
They will be part of a massive urbanization trend that will see 325 million more people living in cities in less than a generation.
Wu Changhua, Greater China director of The Climate Group, the international environmental lobby organization, said it was possible to deliver energy and essential services more efficiently to concentrated urban areas.
"Urbanization is regarded as one of the solutions to energy and climate change issues. You can achieve a much more efficient use of energy," she said.
She added planners in China have the opportunity to fashion new cities that will be effectively carbon neutral, making use of state-of-the-art technology.
"China is in a different position from the United States when it developed in the 19th and 20th centuries. Climate change and carbon emissions were not issues then and you put steel factories right in the center of cities like Pittsburgh," she said.
But the speed of China's development will still make it hard for urban planners to contain the environmental risks.
By 2030, 120 million people will live in China's megacities, an increase from 34 million in 2007 when only Beijing and Shanghai were classed in this category, according to McKinsey.
Chongqing, which could be set to be China's first 30 million population city, has been growing at six time the rates it took Chicago to develop in the 50 years before 1900.
It has grown from a collection of towns and villages to become one of the world's greatest new conurbations.
Martin Jacques, author of "When China Rules The World", which predicts China will overtake the United States as the world's largest economy by 2050, said the emergence of megacities will create huge challenges.
"China will have to come up with novel solutions to the challenges this rate of development poses. It cannot just blindly copy the development of cities in the West," he said.
"Clearly cities cannot be built around the car because when car ownership got up to western levels the cities would come to a complete standstill."
Megacities emerging
Ma Xiaohe, vice-president of the Academy of Macroeconomic Research at the National Development and Reform Commission of China in Beijing, envisages megacities emerging with small and medium sized cities in small clusters around them.
"The larger cities can then share resources with the small and medium sized cities creating logistical benefits and a big labor pool and also reducing overall costs," he said.
"This megacity development is the most efficient option for a country like China with high population density and rare land and water resources."
He said the danger for cities and towns that are not part of these new urban clusters is that they could get left behind.
"The economies of areas outside the urban clusters could eventually wither. This has been the case in Japan, where 70 per cent of GDP (gross domestic product) is generated from just the three areas of Tokyo, Osaka and Nogoya," he said.
China is likely to follow a different model to urbanization in Western countries. In Britain, the first industrial nation, people moved from rural areas to work in factories in new emerging cities such as Manchester in the early 19th century.
China's megacities are more likely to be service sector orientated than hot beds of manufacturing employment.
The lure to move to the city will still be the same - to achieve a better standard of living, even though the realties of urban living might be somewhat harsher than expected.
Service jobs
Prof Lu Bin, head of the department of urban and regional planning at Peking University, doubts whether there will be enough service jobs in the megacities to support the size of their populations.
"That is why it is important to have small and medium sized cities supporting the core city. The smaller cities could offer manufacturing employment and people could commute within the conurbation," he said.
Related readings:


 Scholar warns of radical urbanization in China


 Qingdao aims high in promoting urbanization

 China vows to preserve arable land amid urbanization


 Urbanization means more than high-rise buildings
"All the various hubs within the great metropolis will feed off each other to a certain extent and there will be an interchange of economic activity and people."
Just 600 million people, or 45 per cent of China's 1.3 billion population, currently live in cities but this is expected to grow to more than 1 billion by 2030.
Some 70 per cent of the new urban dwellers will be migrants from mainly rural areas.
Pu Yufei, a leading researcher at the State Information Center, the government think tank, based in Beijing, said this level of urbanization would provide a major boost to the economy.
"The process of urbanization will create enormous business opportunities and also create demand for goods and services, " he said.
He added that former farmers often prove to be successful entrepreneurs when they move to cities.