BEIJING: Yuan forwards weakened the most in more than four weeks after Premier Wen Jiabao said the currency is not undervalued and criticized international calls for appreciation. Government bonds slid.
Foreign pressure for currency gains can amount to trade "protectionism", Wen told a press conference on Sunday. He cited data showing exports to China had grown in 16 out of 37 major trading partners as evidence that the currency was fairly valued.
"I heard many foreign traders have sold yuan forwards as the premier's speech suggested the yuan's spot rate is unlikely to move this year," said Shi Lei, a Beijing-based financial market analyst at Bank of China Ltd. "His tone was very direct and strong to rebuff international pressure and market speculation."
Twelve-month non-deliverable yuan forwards dropped 0.25 percent to 6.6440 per dollar at 12:20 pm from the end of last week, according to data compiled by Bloomberg. That was the biggest loss since Feb 10 and reflects bets the currency will rise 2.7 percent from the spot rate of 6.8262.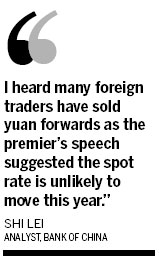 US lawmakers, including Senator Charles Schumer, are proposing that China should be hit with stiffer tariffs to compensate for the unfair export advantage they claim comes from an undervalued currency.
"I don't think the renminbi is undervalued," Wen said at the end of China's annual parliamentary meeting, using another term for the yuan. "We oppose countries pointing fingers at each other and even forcing a country to appreciate its currency."
The premier reiterated that the nation will keep the yuan "basically stable" and maintain a moderately loose monetary policy and a proactive fiscal stance. He said it's "essential" for the timing of any policy changes to be appropriate.
Policymakers have made managing "inflation expectations" a key task for this year. February's gain in consumer prices was 2.7 percent, compared with Wen's target of about 3 percent for the year.
Government bonds due in six years and more declined on speculation the central bank may tighten money supply to manage market expectations about inflation for the rest of the year.
The government aims for a 17 percent expansion in M2, the broad measure of money supply, this year, Premier Wen said on March 5 in his annual government work report. Money supply grew nearly 26 percent in the first two months of this year. The target for new bank loans was set at 7.5 trillion yuan ($1.1 trillion) for 2010, compared with a record 9.59 trillion yuan last year.
"The trend of monetary policy is to become tighter as shown in money supply and credit targets this year, though continuous interest-rate increases are not likely," said Hu Hangyu, a Beijing-based fixed-income analyst with Citic Securities Co, China's biggest listed brokerage. "People expect a higher inflation rate in the second quarter, and bond yields won't see such quick slides as earlier in the year."
Related readings:


 Wen stands firm on yuan


 Premier: Yuan appreciated 14.5% in last two years


 How far will China go for yuan globalization?


 Way toward new global currency

The yield on the 3.43 percent bond due in February 2020 rose three basis points to 3.49 percent, and the price of the security slid 0.25 per 100 yuan face amount to 99.5, according to the National Interbank Funding Center. A basis point is 0.01 percentage point.
Five-year interest-rate swaps slid for a third day, losing two basis points to 3.74 percent. Swap rates represent fixed payments made to receive floating rates.
Economic data, including inflation, is "a bit higher than our forecasts, but not much higher, and we can still act according to our plans", said central bank Governor Zhou Xiaochuan on Sunday. "Raising rates is connected to inflation figures, but from the central bank's perspective, it's not mainly based on data that have already come out."
Bloomberg News