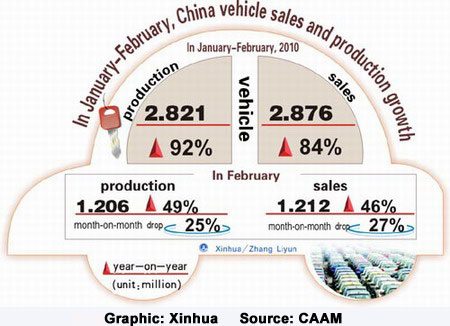 China's auto sales maintained steady growth in the first two months of 2010, buoyed by the nation's car purchase incentives and strong demand brought by the week-long Spring Festival holidays.
The combined auto sales in January and February surged 84 percent from a year earlier to 2.9 million units, with February's figures alone reaching 1.2 million units, up 46 percent year-on-year, according to the China Association of Auto Manufactures (CAAM) Tuesday.
Related readings:


 Stimulus policies rev up markets


 Slowdown in auto sales expected


 GM's high hopes for bumper year in China market


 SAIC Feb auto sales up 45%
China, the world's largest auto market, adjusted the auto tax-cut policy and old-for-new program in January this year, to boost domestic consumption.
Ministry of Commerce said in February that the favorable policies for car purchasing had paid off, with a significant rise in the number of subsidy applications.
Dong Yang, the first deputy director of the CAAM, urged the nation's automobile industry to properly handle the relationship between improving product quality and maintaining fast development.