SHANGHAI - China Life Insurance Co, the world's biggest life insurer by market value, on Tuesday revised up its 2009 net profit growth forecast to more than 200 percent from 2008, citing accounting rule changes.
China Life did not give details on its 2009 earnings, but said that it posted a net profit of 10.068 billion yuan ($1.47 billion) for 2008, in a statement published in the Shanghai Securities Journal.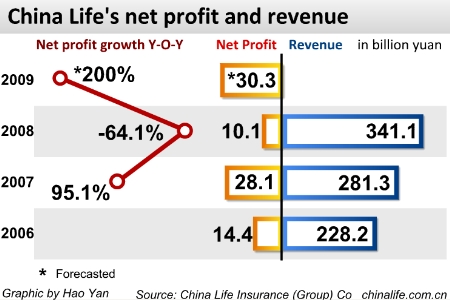 Related readings:


 China Life forecasts more than 50% profit rise in 2009


 China Life's Nov premium income rises 21.3%


 China Life halts sale of 76 short-term products


 China Life reports more than doubled net profit in Q3
China Life previously estimated its 2009 net profit grew over 50 percent, partly as a result of a recovery in the capital markets which led to an increase in investment returns.
China's Ministry of Finance revised accounting rules for insurance companies last year to bring them more in line with international standards, and China Life's 2009 earnings estimates were based on new accounting rules.