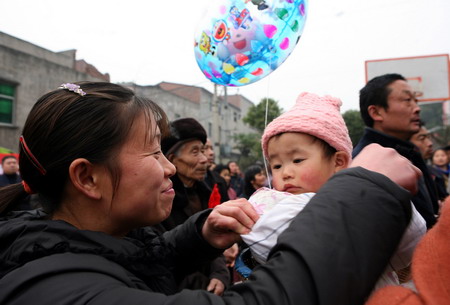 A migrant worker says goodbye to her child in her hometown yesterday, before leaving for Guangdong province.[China Daily]
GUANGZHOU: Business at Wang Jianxue's shoe company is bouncing back, but the company has had to give up some "small" orders after the Spring Festival.
"A shortage of workers has forced us to. We are looking for more workers as orders have been increasing since the second half of last year," said Wang, assistant general manager of Huajian Group, a Dongguan-based shoe manufacturer.
"A large number of companies like us in Guangdong are facing a shortage of workers," Wang said.
In Guangzhou, the provincial capital, up to 80 percent of companies have been looking for more workers after the Spring Festival, according to Zhang Baoying, director of the Guangzhou human resource service center.
But the situation might find relief as more workers are expected to return to work after the Lantern Festival, which falls on Feb 28, according to Zhang.
Zhang attributed the labor shortage to a lack of long-term employment strategies.
"During the global financial crisis, many companies cut employees as they found it hard to secure orders. But as business bounced back, they hired temporary workers, who worked for only a short period of time, to sustain the business," Zhang said.
Many companies in Guangdong, a major economic powerhouse in South China, had to start production earlier than expected after the Spring Festival as they had secured more orders.
"But many laborers are still at home," Zhang said.
To help companies find more workers, a job fair will be held in Guangzhou today, Zhang said.
Labor authorities in some central and western regions said no plans had been issued to prevent laborers from moving to Guangdong and the surrounding regions after the Spring Festival.
"We did not ask laborers not to work in coastal regions, although employment conditions have improved here," an unnamed official with Henan provincial labor and social security department told Guangzhou Daily.
As of last year, Henan, one of the major labor-export provinces in Central China, registered some 12.7 million laborers working outside the province, according to the official.
Related readings:


 Lesson of labor crisis


 Labor shortage puts squeeze on Delta


 The climb in labor costs


 Holiday labor shortages

"It is hard to prevent laborers from moving to areas with a booming economy. They can choose where to work," said an official with the Guangzhou office of Sichuan provincial government.
But the official said the number of workers from Sichuan going to Guangdong had fallen from seven million in 2008 to about five million last year, due to factory closures in the Pearl River Delta area.
"Some workers have returned to work in Sichuan as local companies are offering the same salaries as the Delta region. Others have moved to the Yangtze River Delta areas," the official said.
According to the official, the salary of a processing worker in Sichuan and other central provinces exceeded 1,000 yuan ($147) per month.
"No one wants to work and live outside of his hometown if the salary offered by companies at home is good enough," the official said.
Liang Guiquan, a researcher with the Guangdong provincial situation study and research center, partly attributed the labor shortage in Guangdong to the provincial government's industrial transfer plan, which was implemented two years ago.
"Under the plan, a growing number of factories have moved out of the province to less-developed areas, which are usually labor-export bases," Liang said.
With more industries set up, some laborers no longer want to work in delta regions, Liang said.
"They would rather return home to make money, as more job opportunities are being offered," he added.