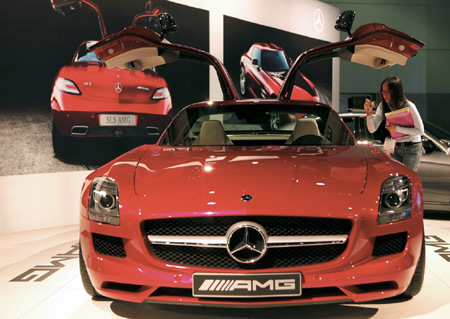 A 2011 Mercedes-Benz SLS AMG Gullwing at a recent Los Angeles auto show. Along with swelling auto sales in the country, an increasing number of luxury carmakers are eying China as a lucrative market. [CFP] 
China has become the target market for the world's luxury auto manufacturers as demand for upscale vehicles surged last year despite a global slump.
"China has been the most important market for luxury vehicles, so with consumption power increasing, the structure of the global automobile market is also changing and shifting its focus to China," said Liu Siyang, chief researcher with Samsung Economic Research Institute. "In the years to come, China's automobile market will not only improve sales numbers, but also enhance itself through sector restructuring."
Analysts believe that with the economy growing again wealthy individuals will increasingly drive demand for luxury vehicles in China.
Statistics from Boston Consulting Group show that by the end of 2009, China had 450,000 millionaires (calculated in US dollars), and over the next four years that number will rise to 800,000.
In 2008, 33.4 out of 100 Chinese families owned a vehicle, compared with 16.2 out of 100 in 2005.
According to the German luxury carmaker Audi, last year, 392,000 premium cars were sold in China, a surge of 38 percent over 2008.
"In the European and American markets, as well as Japan, one out of every five car owners drives a luxury sedan. However, the figure in China is one in 10," Klaus Maier, president and CEO of Mercedes-Benz China told China Daily, indicating the growth potential for the luxury car market is strong.
The German automaker concluded 2009 with its highest sales figures in its 23-year history in China, with 68,500 units moved off lots last year,
That positioned the company as a market leader with the highest growth rate in the luxury sector, an annual increase of 77 percent year-on-year.
The Mercedes' S-Class luxury car had sales of nearly 15,000 units in 2009, reinforcing the fact China is one of the company's largest markets in the world.
"China was our group's fourth-largest market last year we are confident that the country will be Mercedes' No 3 global market this year," said Maier.
He predicts China's luxury car sector will expand slightly faster than the industry as a whole, which is up 10 to 15 percent so far this year.
Mercedes' German rival BMW reported record sales of 90,536 units in 2009, a 38 percent year-on-year increase.
BMW and its Chinese partner, Brilliance Auto Group, announced last November that they would invest at least 5 billion yuan in China to construct a new plant designed to boost the joint-venture's - BMW Brilliance Automotive - annual output from 30,000 to 75,000 units by the end of 2010.
Related readings:


 China: World's biggest auto producer, consumer


 China overtakes US as world's largest auto market


 China a leader in global emerging auto markets in 2010: report


 China's auto sales, output exceed 1m in Nov
For Audi, 2009 China sales surged 33 percent to 157,188 vehicles over the previous year, allowing it to easily maintain its dominance of the nation's luxury car segment.
Johannes Thammer, general manager of Audi sales division at Sino-German joint venture FAW Volkswagen Automobile Co, said he expects China's overall luxury car sector to rise by 25 to 30 percent this year.
Porsche SE, which counts China as its third biggest market, said it aims to sell over 10,000 cars in the country this year as rising wealth makes luxury vehicles more affordable.
Porsche increased sales by about 9 percent to 9,090 vehicles in China last year.