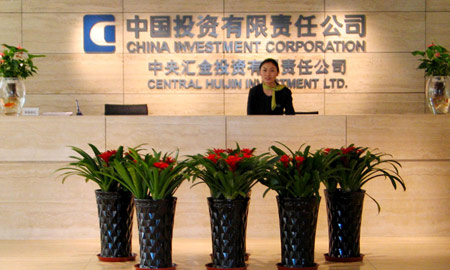 The headquarters of Central Huijin Investment Co, the investment arm of China Investment Corp (CIC), in Beijing. The wealth fund's recent overseas moves may tempt foreign private equity groups to seek financial support from CIC. [CFP] 
Sovereign wealth fund China Investment Corporation (CIC) has finalized a $956 million investment deal with British private equity fund group Apax Partners, a source close to the fund said yesterday.
The source confirmed media reports that CIC was planning to invest $956 million in Apax Partner's 11.2 billion-euro fund. Apax has already got approval from the British Financial Services Authority for the deal, which may also see CIC acquiring a 2.3 percent stake in the UK company.
The sovereign wealth fund is also in talks with Italian power operator Enel SpA on buying stakes in the energy firm and its subsidiary company Enel Green Power, the source said.
CIC's moves may tempt other foreign private equity groups to solicit financial support from the Chinese sovereign wealth fund. It also shows that China is still eager to invest its burgeoning foreign reserves in foreign markets after the heavily criticized loss-making investment in Blackstone two years ago.
Li Xiaogang, director of the Foreign Investment Research Center at Shanghai Academy of Social Sciences, said although the global investment climate has shown strong signs of recovery, Chinese fund companies, especially the sovereign wealth fund, should remain cautious when engaging in overseas investment.
"The risk is that Chinese fund companies are usually constrained from influencing the investment strategy of overseas fund companies," Li said. "They are still novices in the global financial market, and hence should be well prepared before making any investments in foreign PE funds or companies."
CIC is expected to use nearly 60 percent of the $250 billion capital it receives later this month for disbursals to foreign private equity fund firms and hedge funds, according to Shanghai-based consulting firm Z-Ben Advisors.
To hedge against a depreciation of the US dollar, the $300 billion sovereign wealth fund is also actively seeking investment opportunities in commodities and natural resources which are vital to China's economy. According to Bloomberg data, the fund pumped a total of $10 billion into commodity-related companies in the second half of 2009.
Related readings:


 Sovereign wealth fund may step up disbursals for third-party fund managers


 CIC planning more resource investments


 Economic stability boosts CIC


 CIC likely to invest in Rusal public float
CIC said it has had initial talks for direct investments with Brazil, the world's second biggest iron ore exporter and Mexico, the second largest silver producer.
In November 2009, CIC invested $2.2 billion in American power company AES Corp and HK$5.5 billion in China's biggest polysilicon producer GCL-Poly Energy Holdings Ltd. It also invested $300 million to buy a 45 percent stake in the Nobel Oil Group of Russia in October.
Market observers said the fund avoided the worst of the financial crisis in 2008 and may have had at least 10 percent return in 2009, prompting a more aggressive stance this year.