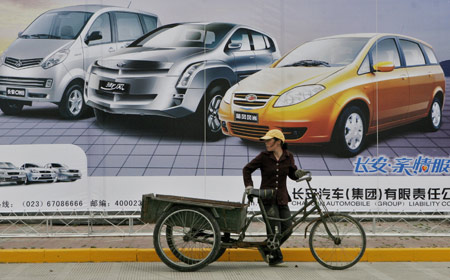 A woman pushes a tricycle past a billboard in Shanghai featuring vehicles manufactured by Changan Automobile Group. Outdoor media saw growth of 9 percent last year. [Bloomberg News] 
China's total advertising expenditure jumped 13.5 percent to $74 billion last year, due to the economic recovery, market information provider CTR Market Research said in a report on Friday.
With a competitive edge over the market average, TV remained the predominant media and its advertising income grew 15 percent, far ahead of any other media in 2009.
Growth slowed in advertising expenditure on print media, mainly due to shrinking ad spending from the real estate and transportation sectors which were seriously affected by the financial crisis.
Outdoor media picked up its growth to reach 9 percent in 2009, following a sharp drop caused by tighter regulations and major national events.
Cosmetics, business and services, foodstuff, beverages and pharmaceuticals were the top five industries that enjoyed solid increases in advertising spending last year.
Though cosmetics remained in the lead, its growth rate was down to 6 percent from 15 percent in 2008. The beverage industry received the biggest increase, 52 percent, in 2009.
Related readings:


 Google to grow ad sales with AdMob


 Ad agencies decry billboard ban in Kunming


 Rubber giant won CCTV ad bid


 Optimism high as CCTV ad slots are snapped up
The dairy industry, which was hit seriously by the melamine milk scandal, has started to recover following PR campaigns aimed at rebuilding consumer confidence.
Thanks in part to government policies to promote home appliance sales in rural areas, home appliance ad spending jumped by 56 percent.
Cosmetics brand Olay's ad spending shrank 5 percent to second place, being overtaken by L'Oreal with a 65 percent increase. Master Kong and Wahaha took great advantage of "re-packaging" to become the stars of the beverage industry in 2009.
China's economic recovery in 2009 and the better-than-expected advertising market trend have paved the way for the ads market to reach new heights in 2010.
"However, in view of some government regulations that could have an impact on TV advertising, we expect a 10 percent growth in the market this year," said Tian Tao, vice-president of CTR.