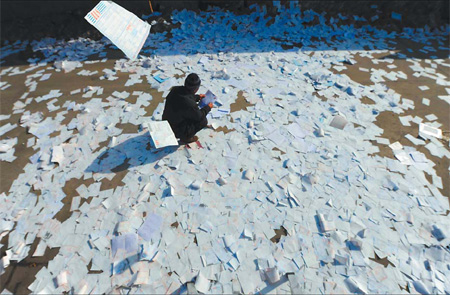 A client tries to locate his receipt among thousands scattered around at the DDS headquarters.[China Daily] 
More than 10 percent of Beijing's courier companies are likely to be involved in mergers and acquisitions this year because of fierce competition in the sector, say experts.
The prediction follows the closure of Shenzhen-based cut-price courier company DDS, which employed 6,000 people before it shut up shop.
"There are probably more than 200 courier firms in Beijing, employing in excess of 30,000 people," Xu Yong, chief consultant with China Express Consulting Website, told METRO yesterday.
The website is a leading civil research institute.
Xu said big fish will likely gobble up the small fry during the coming months.
"Some companies consist of only a few dozen people and cater to a small number of clients or companies. Because of the global financial crisis, and with an unfavorable policy ahead, they are very likely to be bought by bigger firms," Xu said.
Cui Zhongfu, deputy director of China Federation of Logistics & Purchasing, said the courier industry is seeing shrinking demand and companies are cutting their prices in order to compete while many are simultaneously facing higher costs.
Chen Hua, a white-collar worker in Beijing's Central Business District, has noticed the ongoing price war.
"One courier firm charged me only three yuan to send my document last time," the 26-year-old said. "It's really cheap.
"It's all because of the global economic downturn because individuals and companies have been cutting mail deliveries."
Another reason why the pace of mergers is likely to pick up is an anticipated new regulation that, according to its draft, is likely to mean deliveries of less than 50 grams within the city and of less than 100 grams to other cities must be handled exclusively by the State-owned postal service.
Chen Dejun, president of Shentong Express, said such a move would devastate delivery companies.
"If the regulation takes effect exactly like that, Shentong will lose 30 percent of its present market, accounting for 100 million packages per year," Chen said.
Shentong Express has 3,000 branches and employs more than 50,000 people nationwide.
In 2009, the company delivered 400 million packages out of China's total of 2.1 billion.
"Relatively small companies that rely largely on business mail will be lucky to survive," Xu said. "However, they will not just accept bankruptcy. They may search for asset purchasers and ask for a good price."
But many companies are still dreaming big.
"Beijing is such a big market for Shentong. We aim not only to hold up, but also to expand," said Chen.
Han Li, a 21-year-old working for Beijing's Changyu Courier Company, said he has felt the intense competition since last year.
"I have been with Changyu for more than two years," he said. "In the beginning, I could pick up almost 100 packages a day. Now, I see no more than 60 packs."
Related readings:


 Courier business is 'chaos' due to public vs private uncertainty


 Clients, staff protest as courier firm goes bust


 DDS workers demanding back pay from govt


 Clients, staff protest as DDS goes bust
The deliveryman usually rides his e-bike around Beijing's Chaoyang district. He had regular clients and buildings but he now finds rival companies are trying to steal his customers.
"They arrive earlier and wait longer," he said. "They sometimes offer a cheaper price just to attract my old clients.
"I am getting tired fighting with powerful competitors every day.
"Which companies will survive? I do not know," Han said.