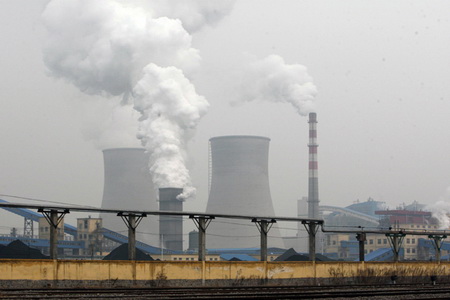 [File photo]
China published new targets for the reduction of major pollutants yesterday as it ran into the final year to realize its green goals.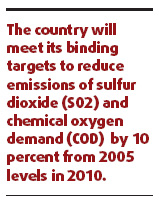 The country will meet its binding targets to reduce emissions of sulfur dioxide (SO2), the major cause of air pollution, and chemical oxygen demand (COD) - the main indicator of water pollution - by 10 percent from 2005 levels in 2010, the Ministry of Environmental Protection (MEP) said yesterday.
The authorities also aim to reduce another 400,000 tons of SO2 and 200,000 tons of COD beyond the targets, which were set in its 11th Five-Year Plan (2006-10).
In order to achieve that, the ministry will strive to increase urban wastewater treatment capacity by 10 million cu m, and install sulfur removers for power generators with a total capacity of 50 million kw this year.
Preliminary calculations show that China had already realized its SO2 reduction goal by the end of 2009, one year ahead of the schedule, the ministry said at the annual national conference on environmental protection held in Beijing yesterday.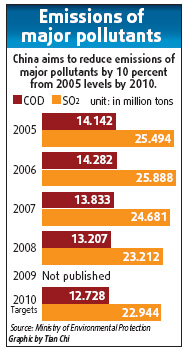 By the end of 2008, total emissions of sulfur dioxide and COD had dropped by 8.95 percent and 6.61 percent, respectively, from 2005 levels.
The ministry also said it will intensify the fight against heavy-metal pollution and an overall plan for heavy-metal pollution prevention will be released by the end of June.
China has been faced with an increasing number of major heavy-metal pollution incidents. Several lead poisoning cases involving thousands of children across the country sparked protests last year.
As the country is poised to meet its 11th Five-Year Plan targets, a number of policymakers and academics have also started planning for the next five-year period.
The ministry said two new pollution indicators - nitrogen oxide (NOx), which is discharged from vehicles and power plants and causes acid rain; and ammonia nitrogen, another major measure of water quality - were introduced into the emission control list during the 12th five-year plan (2011-15).
Related readings:


 China to rely on new tech for CO2 emissions cut


 Punish polluters to save environment


 China orders environmental evaluation on new projects


 China launches 1st environment industry fund

 Developing countries form climate change front

The authorities will also need to find new mechanisms to reduce pollutants, as current projects-based measures to curb pollution have reached their limits, reducing the future capacity for emission reduction, said Zhao Hualin, director of the total emission control department from the ministry.
For instance, China required all its coal-fired power plants to install sulfur scrubbers to reduce SO2 emissions. By the end of 2008, more than 60 percent of China's thermal power generating units had been equipped with such facilities, compared with 12 percent in 2005.
"The remaining capacity is lessening, forcing us to find new battlegrounds for emission reduction. For instance, the sintering process at steel mills is also a major SO2 emitter," Zhao said.