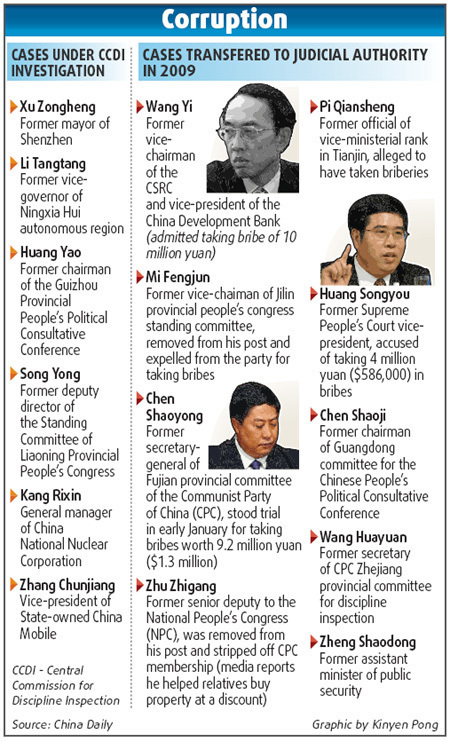 The personal lives and family information of senior officials in China will be put under tighter supervision as the top anti-graft body of the ruling Communist Party of China (CPC) vowed a harsher fight against corruption.
The move was included in a package of anti-corruption measures unveiled at the end of a three-day plenary meeting of the CPC Central Commission for Discipline Inspection, which closed yesterday.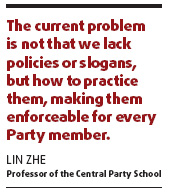 A communiqu released by the plenary session warned that the fight against corruption was still a "persistent, complicated and arduous" task.
Last year, at least 15 ministerial or provincial level officials, including heads of State-owned enterprises, were investigated for corruption, nine of whom were referred for prosecution, the commission said.
Among them were former Supreme People's Court vice-president Huang Songyou, who was the first supreme court justice in China removed for grave violations of the law and Party discipline.
The communiqu spelled out detailed anti-corruption measures, which highlighted the supervision over the personal life of senior officials.
Party organs at all levels should carefully administer the family reporting regulation to prevent officials from abusing power, taking bribes and participating in other illegal activities, according to the communiqu.
The CPC promulgated the family reporting regulation in 2006, by which Party officials are obliged to report information such as employment conditions of their spouses and children, real estate and investment.
The communiqu issued yesterday added that the disciplinary organs would strengthen their management of those Party and government officials whose spouses and children have emigrated.
"Leading Party officials will be strictly prohibited from making convenience or malfeasance for their spouses and children in getting jobs, investment, or running businesses by violating regulations," the communiqu said.
It also warned officials against accepting cash gifts, securities and payment documents, or holding lavish wedding or funeral services in a bid to acquire money.
Party officials should be strictly prohibited from using public money or accepting invitations from organizations and individuals related to official power to enjoy expensive entertainment or bodybuilding activities," the communiqu said.
The communiqu served as a clear sign that the CPC was going to tighten supervision over senior officials' lives.
In late December, Chen Xizhao, deputy police chief in Lianjiang county of the southern province of Guangdong, was suspended following allegations that he received money from more than 1,000 guests invited to a party to celebrate his new villa.
Related readings:


 Anti-corruption leader says problem worsening


 Family reporting regulation to stem corruption


 Corruption hurting nation's image: Poll


 Corruption charges filed against SOE executives
Media questioned how Chen could afford to get a five-story villa in a plush urban locale, and Martell Cordon Bleu cognac wine at 3,000 yuan ($480) a bottle, with which he treated the guests at the party.
Lin Yueqin, a researcher from the Chinese Academy of Social Sciences, said the new anti-graft move indicates that the CPC has detected the new phenomena or trend of corruption among officials in a timely manner.
Professor Lin Zhe of the Central Party School said she thought the Party has good measures to curb corruption but how to put them into practice is more important.
"I think the most eye-catching thing was in President Hu Jintao's speech at the plenary meeting, in which he emphasized the establishment of a scientific, strict, complete and effective anti-corruption system," she said.
"The current problem is not that we lack policies or slogans, but how to practice them, making them enforceable for every Party member," she said.