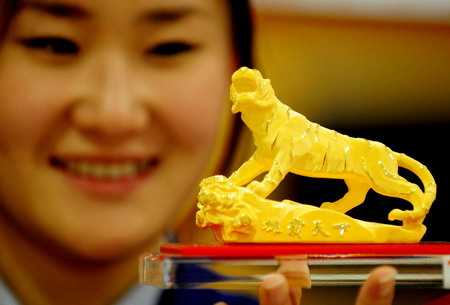 A customer looking at a gold tiger on display at a shopping mall in Shenyang, Liaoning province. Bullion gained more than 50 percent last year from $801 an ounce in January to $1,226 an ounce in December. [China Daily]
The yellow metal's allure as a solid, tangible, intrinsically valuable store of wealth seems to be growing further in China with the nation soon set to surpass India as the biggest consumer.
China is already the largest gold producer in the world with an output of around 282.504 tons in the first 11 months of 2009. That figure represents a 14.6 percent increase over the same period in 2008, said the Ministry of Industry and Information Technology on its website yesterday.
Miners expanded output last year after bullion prices soared to record highs, with production in November alone reaching 27.952 tons, said the ministry.
Bullion gained more than 50 percent in 2009 from $801 an ounce in January to $1,226 an ounce in December as a weak dollar drove demand for precious metals as alternative assets.
According to China Gold Association, the estimated demand for gold in the country was 450 tons in 2009, up 13.8 percent from 395.6 tons in 2008.
"With household income increasing, Chinese consumers are buying more jewelry and investing in gold assets. All of these are boosting gold demand," said Zhang.
China overtook South Africa as the world's largest gold producer in 2007. The World Gold Council said in July that the country would soon surpass India as the world's biggest gold consumer.
Reflecting the buoyant industry trend the big five gold producers came in with better output numbers last year. Zijin Mining Group Co Ltd, China National Gold Group Corporation, Shandong Gold Group Co Ltd, Shandong Zhaojin Group Co Ltd and Lingbao Gold Company Ltd together produced 112.19 tons of gold in the first 11 months of 2009, up 13.5 percent from the same period of 2008.
Related readings:


 All that glitters is gold


 Beijingers in gold rush at year end


 Central banks eager to get their hands on gold


 Analysts say gold not a long-term hedge
The surging prices also pushed up share prices of gold miners. Zijin, the largest gold producer in China, closed at 9.64 yuan on the last trading day of 2009, marking an almost 50 percent gain in a year.
Zhang Bingnan, general secretary of CGA, feels that Chinese gold miners can still boost output further.
The changing industry landscape has also helped the industry to make rapid strides. Many of the small mines were merged into the cash rich bigger firms who also have the right technologies to mine low-grade ores. The exercise also helped spur more investments in exploration, said Zhang.
Chinese miners are also eyeing overseas resources to expand their footprint. The latest move is Zijin's $498 million takeover offer for Australian mining company Indophil Resources in November, a deal that will help secure copper and gold mining assets in the Philippines.
In December, another proposal to buy gold mines in the US made by China's Northwest Nonferrous International Investment Co Ltd offer was blocked because the target mine was in the proximity of a military base.