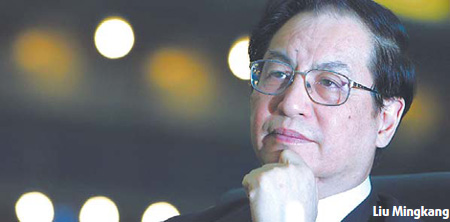 China's banking regulation chief said lenders have "more than" enough capital and urged them to extend credit to consumers and smaller companies.
Liu Mingkang, chairman of the China Banking Regulatory Commission, also told banks to support rural development, healthcare, energy saving and pollution reduction in an opinion piece on Bloomberg News yesterday. He cautioned that "structural bubbles threaten to emerge" in the world's third-biggest economy.
"Strong buffers", including capital, liquidity and provisioning requirements, have limited risks to the banking system from the lending surge, Liu said in the article.
A record 9.21 trillion yuan of new loans in the first 11 months of 2009 drove China's recovery - at the risk of increasing non-performing loans and creating asset bubbles.
At the same time, the government is pressing banks to steer money toward small businesses that are short of funds.
The regulator didn't say whether China would cap new loans in 2010.
China's policymakers are trying to secure an economic rebound while avoiding the stock and housing bubbles that plagued the US in the last decade.
Liu's warning on bubbles echoes cautions from Fan Gang, an academic advisor to the central bank, and Zhu Min, the deputy governor who was previously a vice-president at Bank of China Ltd.
Soaring property
Property prices climbed at the fastest pace in 16 months in November, rising 5.7 percent from a year earlier, led by the eastern city of Shenzhen. The Shanghai Composite Index climbed 80 percent last year.
Liu acknowledged that bank loans had been channeled into stock and property speculation last year, saying that "we stepped in to stop that". The regulator tightened rules on loans for homes and automobiles, fixed-asset investment and working capital to limit speculative flows.
"Despite the worry that the aggressive lending may strain the banks' capital, both individual banks and the industry as a whole are now more than adequately capitalized," Liu said. "One thing we have learned from the past is that we need to build strong buffers into the banking system that cover capital, liquidity and provisioning."
Fitch Ratings said on Dec 17 that Chinese banks' capital strength is probably more "strained" than it appears as lenders use more off-balance sheet transactions to make room for loan growth.
Lending goals
In 2010, lending should "boost consumer spending, support rural development and qualified small- and medium-sized enterprises, improve healthcare and the social insurance system, and facilitate pollution reduction and energy saving", Liu said.
Related readings:


 Premier: Economy could be better with less lending


 China's central bank says to manage credit pace after lending spree


 New lending cap of 8 trillion yuan


 Bank lending to be cut back next year
The Chinese economy may have expanded more than 8 percent last year, topping the government's target, according to economists and officials including Liu.
That growth was largely fueled by government stimulus spending, and the challenges for 2010 include weakness in key export markets, the possible asset bubbles and the need to boost domestic consumption, he said. "Although consumer spending has picked up some of the economic slack, China's under-developed social welfare system continues to restrain domestic demand from becoming a major part of China's growth story," Liu said.