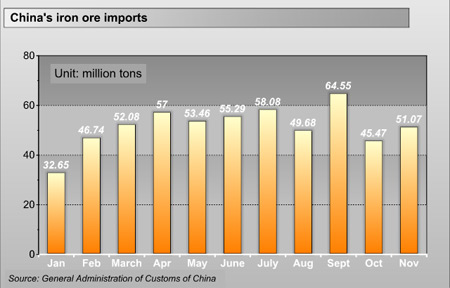 Subsidiary to join hands with Shunde Rixin for iron ore imports
China Minmetals Corporation, the country's largest metals trader, said yesterday it plans to cooperate with a Guangdong-based private company to develop iron ore mines in Chile.
The company confirmed an earlier media report saying that Minmetals' subsidiary, China Minmetals Zhuhai Import and Export Trading Co Ltd, signed an agreement with Shunde Rixin Development Co Ltd to import and market iron ore from Chilean mines owned by Rixin.
Minmetals spokesman Xiao Chunming said the firm would not invest or finance any of the three mining projects directly.
Guangdong-based Rixin has already acquired a 76 percent stake in three Chilean iron ore mines at a cost of 13 billion yuan, the 21st Century Business Herald reported on Dec 29, citing Rixin Chairman Li Zihao.
Rixin will stagger the payment schedule and raise funds from its Hong Kong shareholders to finance the project, the paper said, adding that the company plans to provide 30 million tons of iron ore to the Chinese market between 2010 to 2012, and at least 120 million tons a year starting in 2014.
The three iron mines are about 1,000 km north of Chile's capital city Santiago. Their mining assets span some 40 sq km and have explored reserves of 5 billion tons.
Related readings:


 China Minmetals blamed for discharging waste into river


 China offers opportunity to global mining sector: China Minmetals


 China Minmetals, OZ Minerals ink $1.21b takeover deal


 China Minmetals buys majority stake in Canadian miner
A subsidiary of China Communications Construction Company Ltd (CCCC), the country's largest international contractor, will undertake construction of the project's railways and docks.
A Guangdong branch of State-owned COSCO Logistics signed an agreement with Rixin to ship iron ore, according to the paper.
Logistics, including railways and docks, are of vital importance to mining projects, said an industry watcher who declined to be named.
"I have seen a Chilean iron mining project fail because a competitor refused to load their goods. "
CCCC and COSCO said yesterday they were not aware of the Chilean iron-mine project with Rixin.
Rixin's chairman had maintained a low profile before the acquisition was disclosed earlier this week.
Li established Rixin with 50 million yuan in registered capital in Guangdong province in 1996.
The company started as a textile exporter and then moved into auto making by acquiring Chengdu Newland and Jiangsu Peony in 1998 and 2008 respectively.
Inadequate information disclosure has spurred doubt from analysts.
"We need to know how they explored the mines and what the nature of the venture is," said an industry insider who declined to be named.
"If the 5-billion-ton reserve is validated, it will definitely help break the monopoly on iron ore held by the three global mining giants, Vale, Rio Tinto and BHP Billiton," he added.
Chinese investors have been enthusiastically snapping up overseas iron ore resources to break the foreign monopoly.
Earlier this month, Hebei Iron & Steel Group, China's second largest steel mill, and Tianjin-based and privately owned RockCheck Steel Group, agreed to buy a 50 percent stake in Australian mineral explorer Aurox Resources Ltd to gain access to the Balla Balla iron ore mine.
Another deal concluded this year was Chinese steelmaker Wuhan Iron & Steel Group's $400 million investment for a 21.52 percent stake in Brazilian iron ore miner MMX Mineracao e Metalicos SA, followed by Wuhan Steel's $247-million investment in Australian iron ore firm Centrex, and Baosteel's acquisition of a 15 percent stake in Aquila Resources.
Statistics from Beijing Lange Steel Information Research Center shows over 60 percent of China's iron ore supply relies on imports.
ABARE, an Australian government-backed, economic-research agency, expects China to import 637 million tons of iron ore in 2010, up 12 percent from 568 million tons in 2009.