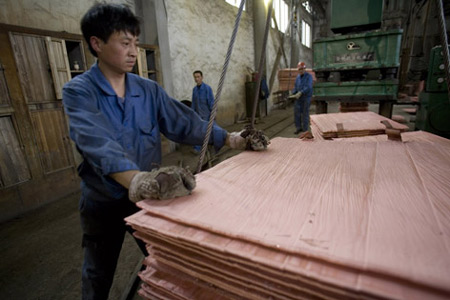 A man works at the Tongling Nonferrous Metals Group Holdings Co Ltd's copper smelter in Tongling, Anhui province. The proposed deal would offer China Railway and Tongling mining rights to 17 copper deposits in Ecuador. [Agencies]
China Railway, Tongling eye copper mining rights in Ecuador
China Railway Construction Corporation (CRCC) and Tongling Nonferrous Metals Group Holdings Co Ltd are buying Canadian miner Corriente Resources Inc in a 4.4 billion yuan deal to gain access to copper resources in Ecuador.
Corriente was offered 55.89 yuan per share in cash, representing a 27 percent premium to Corriente's average trading price for the 30 trading days prior to Dec 24, China Railway said in a statement to the Hong Kong Stock Exchange on Monday night.
Related readings:


 CRCC to build on new orders


 CRCC gets railway contract in Libya


 CRCC grabs $3.65b railway contracts


 CRCC raises $3.1b in Shanghai IPO
The deal would offer China Railway, China's largest railroad builder, and Tongling, the country's second-largest copper producer, mining rights to 17 copper deposits in Ecuador. The four biggest mines, Mirador, Mirador Norte, Panantza and San Carlos, have 11.54 million tons of copper reserves.
CRCC-Tongguan Investment Co Ltd, a 50-50 joint venture between China Railway and Tongling, will manage the offer and develop the global mining business on behalf of the two companies.
"The Mirador, Panantza and San Carlos copper projects will require large scale capital investment by CRCC-Tongguan to unlock the infrastructure development, social benefits and jobs that will flow to the people of Ecuador," Ken Shannon, CEO of Corriente, said in the statement released on Monday.
China Railway said in a statement that the mining venture would help the firm diversify its portfolio. The offer is still subject to a minimum tender condition of 66.67 percent, the statement said. CRCC-Tongguan, with registered capital of 2 billion yuan, will finance the acquisition through bank loans and internal resources, said the statement.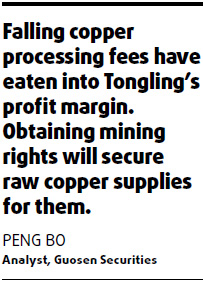 Tongling also filed a statement with the Shenzhen Stock Exchange yesterday, saying the transaction was in the interests of its long-term development.
Tongling is eager to enlarge its copper reserves because of falling copper processing fees and its lack of self-sufficiency, said analysts.
"Falling copper processing fees have eaten into Tongling's profit margin. Obtaining mining rights will secure raw copper supplies for them," said Peng Bo, an analyst with Guosen Securities.
Copper prices jumped to 58,360 yuan a ton yesterday on the Shanghai Futures Exchange, up 140 percent from January figures.
On Dec 24, Tongling and US copper miner Freeport-McMoRan Copper & Gold Inc, signed 2010 copper processing fees at $46.50 a ton, down 38 percent from $75 a ton in 2009.
Chinese mining companies have been actively looking for business opportunities since the start of the global credit crisis to bolster their metals reserves.
Earlier this month, Chinese zinc-maker Yunnan Chihong Zinc & Germanium Co Ltd, said it would invest $94 million to set up a joint venture with Canada's Selwyn Resources Ltd to operate the Selwyn zinc-lead mining project.
Also this month, China's biggest gold producer Zijin Mining Group Co Ltd made a $498 million takeover offer for Indophil Resources NL of Australia to gain a stake in Southeast Asia's largest untapped copper and gold deposits at Tampakan in southern Philippines.