I've been driving for almost 15 years in a number of countries with both left-hand and right-hand traffic flows. But I remain apprehensive about driving in this city.
The army of licensed drivers now stands at 5.7 million, with one in three having less than two years experience on the roads.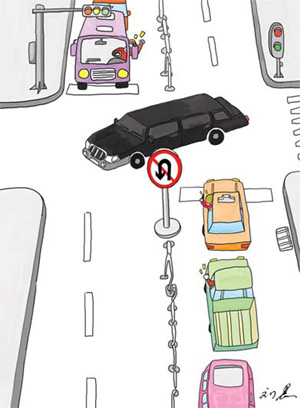 While Beijing wants to sell more cars to boost the economy as well as meeting middle-class aspirations for car ownership, new drivers are unleashed on to its already congested roads at a staggering rate of 10,000 per week.
If you walk, you'll probably need to be more skillful in dodging cars at street crossings. If you drive, you should always be alert to new drivers who might often forget to signal before changing lanes or appear out of nowhere to cut in ahead of you.
If somebody does suddenly stop ahead of you, try to be calm. He or she might just be looking for an address, or ready to back up in front of you after missing their exit.
One young colleague told me that after half a year on the road, she had already had three accidents, including two scrapes on the road and one rear-end collision in a public parking lot.
Even worse, new drivers are not the only people responsible for reckless and dangerous driving behaviors. Some experienced motorists tend to have low respect for the law, which is exacerbated by a lack of integrity of law enforcement.
We probably all have the experience of having to control our adrenaline rush when a tailgating black Audi or Passat with pitch dark windows - the typical official vehicle - keeps honking or turns on the siren to nudge us out of its way. Sometimes, we wonder why some cars can make an illegal turn or run a red light on main streets, while the police pretend not to see.
There are two popular theories on traffic that can help us understand driving behavior. The first is related to GDP, which basically says that when people become richer, the roads will be safer because they pay more attention to safety. The second gauges a nation's driving behavior by its level of corruption.
It's true countries with higher GDP will invest more in road safety and their motorists will have greater risk aversion. But wealth is not everything, because other factors, such as corruption, also play a part in driver behavior.
Related readings:


 6 years for drunk driver who killed 6


 Driver blamed for bus plunge that kills 13 in E China


 Bad driver? Blame your genes


 Drunk driver kills woman, then passes out

For example, Belgium has been found to have a much worse traffic-death rate than equally rich Netherlands, because it is "more corrupt and corruption reduces respect for the law."
Unfortunately, in an increasingly affluent city like Beijing, corruption is also an everyday reality that influences driving behavior.
A Chinese word search on google of tequanche, or government cars with road privileges, turns up 16.9 million uncomplimentary reports, posts and comments.
The search on tequanche in Beijing alone generates 746,000 listings. Internet vigilantes believe the abuse of government car privileges has contributed to lawlessness in other road users.
As a matter of fact, China has very detailed traffic rules that are covered in computerized tests for license applicants. For example, motorists pay a fine of 200 yuan ($29.3) and lose two points if they tailgate or take a phone call while driving.
But there is less of an incentive for obeying the law if people realize those in power are not following the law. When stuck in a traffic jam, who doesn't want to go follow a tequanche that veers off to drive on the road shoulder or a bike lane?