Wu Liwei, a postgraduate major in journalism from Renmin University of China, has been trying to find a job for some time. And though the 24-year-old is yet to get a satisfactory offer, Wu said yesterday that she still felt lucky and hopeful.
"Next year looks better than even this year," Wu said. "A friend who majored in the same subject last year said many big companies had stopped recruiting then."
But this year, staff from a lot more companies, including big names, visited her university for campus recruitment. "I have attended about 10 such recruitment fairs, and many of my classmates have got offers. I am waiting for the right one," she said.
Most university graduates like Wu feel the same. And it's true that China's recruitment prospects are better now than last year or early this year.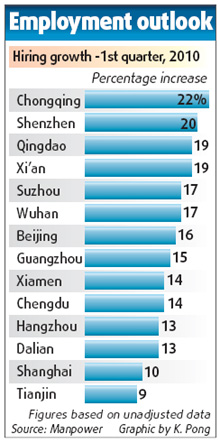 Buoyed up by the ongoing economic recovery and domestic consumption, the willingness of potential employers to hire people in 2010 will be stronger than this year, with companies in second-tier cities showing greater interest, a Manpower survey released yesterday said.
According to the survey, conducted by the world's leading employment service provider, 19 percent of the potential employers said they would hire people in the first quarter of next year - 2 percentage points higher than in the fourth quarter of 2008, and also the highest since late last year.
Those who aim to cease recruitment in the next quarter add up to only 5 percent of the total, 1 percentage point lower than in the previous quarter and the lowest in a year.
Manpower has done such quarterly recruitment studies in China for five years. This time, it interviewed 4,317 enterprises from home and abroad for the survey.
"Actually, the recovery helped improve China's labor market from the second quarter of this year," said Danny Yuan, managing director for Manpower China. "Now, employers are more confident of hiring people next year,"
Xu Zhixue, senior consultant with Beijing-based Zuoyou Consulting Group, a leading local human resource service provider, corroborated Yuan.
Zuoyou's clients are usually big State-owned enterprises (SOEs) in telecom, aerospace and mining sectors, such as Beijing Mobile. "They (SOEs) were worried over the economic trend and most of them had scaled back their recruitment," Xu said.
Related readings:


 'Covert' coping with job conflict ups heart risk


 Job creation near but likely to be painfully slow


 Graduates pick study over job market


 Recycle to restart job market: Lawmakers
"But since the last quarter, they have recovered their confidence. Now, we are much busier than before," he said.
China's economy began showing strong signals of recovery in the third quarter of this year, with GDP growth reaching 8.9 percent. Decline in exports began easing off, too, and the sector is expected to have taken to the growth trajectory in late 2009.
According to Manpower, employers in the finance, insurance and real estate sectors could be the biggest recruiters next year, with the mining and construction industries registering the fastest growth in the past quarter.
The survey also shows employers in cities like Chongqing, Xi'an, Qingdao, Wuhan, and Suzhou expect to see a stronger hiring environment than their counterparts in major cities.