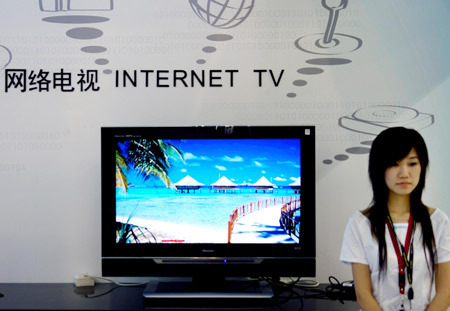 An Internet TV on exhibition at a science fair in Beijing. China will strengthen its supervision and management of Internet television providers. [Asianewsphoto]
In the midst of the global financial crisis, China's Internet TV market is emerging as a new sales avenue for television manufacturers.
The State Administration of Radio, Film and Television (SARFT), however, has unveiled a new policy to strengthen its supervision and management of Internet TVs.
Internet TV refers to a broadcasting service that enables users to view and download a variety of content such as video on demand (VOD) and TV programs through TV sets that have a set-top box and Internet function.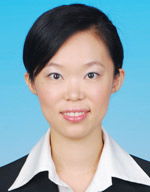 Sun Xiaofei
At present, China's Internet TVs can be divided into three models: TV + Internet set-top box (pushed by telecom operators), TV + digital set-top (SARFT), and Internet access through the Internet software and module embedded in a TV (TV manufacturers).
This report deals mainly with the third "built-in module" model that is spearheaded by TV manufacturers.
Beginning in March 2009, a group of television manufacturers, including TCL, Samsung, Skyworth, Haier, Changhong and Hisense, started releasing flat-panel TVs embedded with Internet modules.
TCL's MiTV and Skyworth's Coocaa TV were released through a partnership with Xunlei, while Hisense and Haier marketed Internet TVs through partnerships with Sina and Sohu.
In April 2009, Samsung rolled out a brand-new Internet TV that is primed with an Internet access function and an information search function, enabling users to get the latest news, stock prices and weather forecasts.
For TCL and Skyworth, which have been leading the Chinese flat-panel TV market, Internet TVs account for about 30 percent of their total sales. For the others, Internet TVs account for 15 percent to 20 percent of their sales, on average.
The way Internet TV services are offered is different in China, compared with foreign countries. Chinese Internet TV services are offered mainly by TV manufacturers under contracts with content providers, while foreign Internet TV services are provided mainly by telecom operators.
New supervision
SARFT issued a new policy in August to strengthen its supervision and management of Internet TVs. SARFT claimed that unlicensed transmissions of online video content to TV sets could damage the distribution order of online video programs.
SARFT stipulated in a statement that to provide online video programs to the users of Internet TVs, the providers should obtain online video broadcasting licenses and permission from copyright holders.
SARFT is stepping up efforts to fine-tune the norms and standards of the Internet TV industry, while strengthening its crackdown on illegal copies.
Copyright disputes over online distribution of movies and TV programs are increasing in China's Internet TV industry due to a lack of supervision and management.
In August, Chinese VOD provider Voole, for example, accused TCL of broadcasting films licensed by Voole without permission on TCL's Internet TV service MiTV.
It is possible that the provision of Internet TV services by TV manufacturers could damage the interests of SARFT. SARFT is currently preparing to launch its own VOD Internet service using set-top boxes.
Related readings:


 Crack down on online TV piracy


 CCTV to launch online TV station


 Intel, Yahoo partnering on Internet TV concept


 TV networks hold their own in new season
Considering that Internet TV manufacturers are offering video download services for free, it could possibly damage the profitability of the pay TV service that SARFT is planning to offer.
Given the primary features of Internet TVs, i.e., a variety of content and very fast uploading speeds, it could also hurt the profitability and program ratings of existing broadcasting companies.
Before Internet TVs became prevalent, there was a case where the sales of set-top box style Internet TVs were prohibited by SARFT.
In 2005, Shanda marketed the "Shanda Box," a solution to connect the Internet with TVs, and started providing VOD and Internet content through TVs. About a year later, however, SARFT banned sales of the Shanda Box, claiming that Shanda uploaded Internet content to TVs without getting the proper licenses.