"The fact that supply can't keep up with demand caused soaring garlic prices," said Liu Zhangjian, governor of Jinxiang county.
Liu said he worries that surging prices will persuade too many farmers to plant the crop at the same time, which might cause excess supply and a nosedive in prices next year that would eventually hurt the interests of farmers.
"As the main garlic production area, the local government does not want the price to be volatile," Liu said.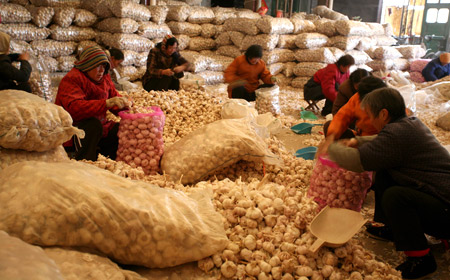 Farmers in Jinxiang county, Shandong province, select garlic for packaging. [China Daily]
China is the world's largest garlic exporter, followed by Argentina and Spain, and is meeting three-fourths of the world's garlic demand. China now has more than 1,200 storage houses and 700 garlic processing and export companies.
China exported 1.52 million tons of garlic last year, 70 percent of which was produced in Jinxiang. Garlic has been a pillar industry in Jinxiang, which once produced 1 million tons of garlic a year.
Less for farmers
But unlike market speculators who have pocketed huge profits in recent months, the benefits to garlic farmers from surging prices are much smaller.
Zhang Yuanjin, a garlic farmer in Jinxiang county, sold his crops at the price of only 0.6 yuan per kg in July this year, because Zhang, like many farmers, could not obtain sufficient market information. Unlike some garlic traders, he also did not own big storage houses.
Related readings:


 Garlic is not cure to A/H1N1 flu: China Commerce Ministry


 Garlic price rockets in amid flu fears


 Hold your nose: garlic is best investment in China


 H1N1 flu a boon to Shandong garlic market
"The price jumped to 1.4 yuan immediately after I sold mine," he said.
Zhang made only 9,000 yuan this year by selling the garlic he grew last year. Still, his earnings were three times more than last year, he said.
He said he would not grow more garlic next year because of the rising cost of garlic seeds and fear of a price nosedive in the market next year.
Most garlic brokers, however, said they believe the price will stay high for the next two years. They base their optimism on speculative market expectations among garlic traders and rising demand from abroad, they said.
Shandong province exported $88.6 million worth of garlic in September, a 109 percent increase from the same period last year, according to the Shandong Provincial Commerce Department. The export price jumped to $1,000 per ton from last year's price of $200 to $300 per ton.
Industry insiders estimated that the garlic price will hit a new high by the end of this year.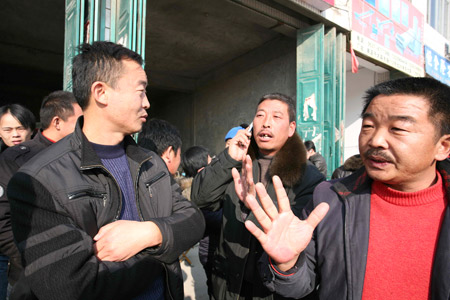 Brokers bargin at the wholesale market in Jinxiang county, Shandong province. [China Daily]
Insiders said demand from home and abroad will be boosted during the upcoming Christmas and Chinese New Year holidays, since garlic is a popular seasoning and important raw material for processing many foods.
But experts cautioned against over-reacting to the surging price of garlic.
"The garlic market is cyclical. Price rises are short-term, and they will fall again before long," Yi Xianrong, a researcher with the Chinese Academy of Social Sciences, was quoted by Reuters as saying.
Experts estimated that garlic price volatility is likely to be a three-year cycle, and that the future price of garlic will fall back to the normal level at between 1.4 yuan to 2 yuan per kg.
Other experts said the speculation driving skyrocketing prices cannot be sustained.
Jerry Lou, a Morgan Stanley China strategist, said that speculators, financed by abundant liquidity sloshing around the country, had moved into the relatively small garlic market and manipulated prices.
Lou described the tools of the trade used by garlic speculators.
"You need a warehouse, a lot of cash and a few trucks. That's how it works," Lou was quoted by the Financial Times as saying.
"Basically, what you do is try to arrest as much supply as possible. Then you bid up the price. Moving garlic from one warehouse to the other, you make millions of dollars," Lou said.
Contributed by Wang Qian