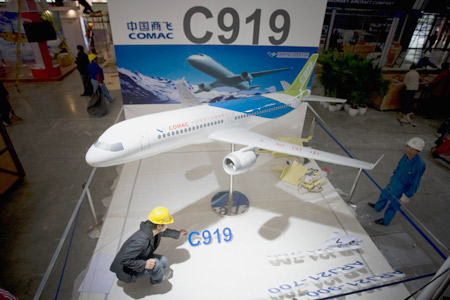 A model of the C919 was unveiled at the Asia Aerospace Expo in Hong Kong this September. [China Daily]
Commercial Aircraft Corp of China Ltd (COMAC), which is in charge of the indigenous C919 passenger airplane program, announced yesterday that it would set up its final assembly line in Shanghai's Pudong New District.
The center, located south of Pudong International Airport, is divided into Pudong Base and Dachang Base, with the former covering an area of 267 hectares, Jin Zhuanglong, general manager of COMAC, said in Shanghai.
Construction of the Pudong base will start by year-end, and it targets to manufacture 20 homegrown C919 jets and 50 ARJ 21-series planes annually by 2016, the company said.
The division, which has a registered capital of 2 billion yuan, is among COMAC's three key units responsible for aircraft design, manufacturing and service. Work on the manufacturer's research and development center started in Pudong's Zhangjiang Hi-tech Park this July.
Related readings:

 China displays mockup of home-grown jetliner C919


 China encourages foreign firms in large jet program


 Production begins on China's jumbo jet


 China-made jet engine to debut in 2016
"Assembly and manufacturing are among the core capabilities that ensure the business success of ARJ 21 and C919 passenger planes and it will largely boost China's civil airplane industry," Jin said.
Shanghai-based COMAC was established in May 2008 with 19 billion yuan in registered capital to take on Boeing and Airbus in China's fledgling but booming aviation market by building a home grown 150-seat passenger aircraft.
The airplane manufacturer unveiled a model of the narrow-body C919 plane at the Asia Aerospace Expo in Hong Kong this September. The C919 is expected to take off in 2014 and enter service in 2016.
COMAC aims to become one of the Big Three aircraft manufacturers in the world to compete with Boeing and Airbus, Chen Jin, general manger of COMAC's sales and marketing department was earlier quoted by Reuters as saying.
China has become one of the world's fastest-growing aviation markets. According to the Civil Aviation Administration of China, the country's passenger traffic volume reached 191.9 million in the first 10 months of 2009, up 19.8 percent from the previous year.