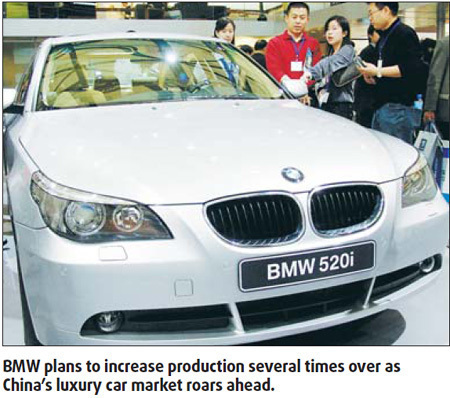 BMW Group's long-term plan for a seven-fold increase in its China production capacity announced last week is expected to further intensify competition in the country's growing luxury vehicle market.
The German carmaker's strategic plan is to increase annual production to 300,000 units with local partner Brilliance China.
Its joint venture with Brilliance now has a 41,000-unit plant in Shenyang, capital city of northeastern Liaoning province. The facility's capacity will be expanded to 75,000 units next year.
The two parent firms will also build a new 5-billion-yuan plant in Shenyang with a planned capacity of 100,000 cars a year by 2016 or 2017. It will have an initial capacity of 25,000 units in 2012.
BMW's aggressive plan comes two months after Audi, the current luxury market leader in China, opens a new 100,000-unit assembly plant in its joint venture with FAW Group Corp in northeastern city of Changchun, doubling its overall production capacity in China to 200,000 cars a year.
Related readings:


 Luxury brands eye 2nd-, 3rd-tier China cities

 Luxury brands drop prices to attract more customers


 Smooth drive for luxury brands


 Luxury brands look to China amid global crisis
Industry sources said another major luxury carmaker, Mercedes-Benz, will boost capacity at its joint venture in Beijing to 80,000 units annually in the near future from the current 30,000.
Friedrich Eichiner, board member and chief financial officer of BMW, said the expansion plan indicates that BMW is strengthening its long-term commitment to the Chinese market.
"We believe in the potential of the Chinese market for BMW Group," Eichiner said.
Christoph Stark, president and CEO of BMW Group Region China, last week denied recent rumors that the luxury carmaker was in talks with SAIC Motor Corp, partner of General Motors and Volkswagen, to assemble its 7 Series sedans in China.
BMW's tie-up with Brilliance now makes the 3 and 5 Series sedans.
BMW plans to launch the all-new 5 Series sedans with extended wheelbase at the joint venture at the end of 2010.