Growing up as a farmer's son, Lin Zuojun used to play hide-and-seek with his friends in the bamboo forest of Fujian province. Little did he know back then that he would one day make millions of yuan by selling those most common plants of the region.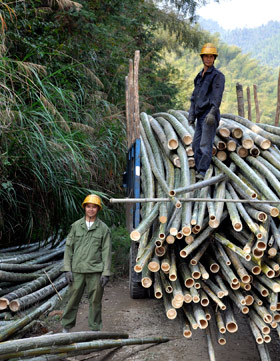 Workers at Asian Bamboo deliver bamboo timber. The Frankfurt Stock Exchange-listed company is benefiting from the increasing demand for bamboo as an alternative to traditional wood resources. [File photo]
Harvesting more than 1.6 million bamboo trees and 25,000 tons of bamboo shoots every year, his company, Asian Bamboo, is China's biggest bamboo producer today.
It is also one of the only three Chinese companies listed on the Frankfurt Stock Exchange in Germany - the third-largest stock exchange in the world.
"We just had a very successful capital increase where we sold all of our 1.275 million new shares to institutional investors in a very short period of time," Lin said in an interview with China Business Weekly. The proceeds of the new issue totaled 25.5 million euros.
This successful outcome is a reflection of the company's strong performance in the first six months of 2009. Revenues increased by 42 percent to 25.8 million euros. After taxes the profit was 13 million euros, an increase of 64 percent compared with the same period last year.
For the whole year, Lin expects the returns to reach 55 million euros and earnings 25 million euros.
It is a profit he would have never even dreamed of when he started working as a distributor trading canned bamboo shoots in 1990. Back then, he didn't have any notion of founding a company.
"I just wanted to make a decent living for me and my family," he said.
But soon he discovered that, due to the country's rapid developing economy during the 1990s and rising living standards, the demand for healthy food and substitutes for wood grew fast.
"I thought I could make even more money in growing and producing the products I sold," he explained. He started to save money and bought his first plantation in 2002.
Related readings:


 Bamboo keyboards expect to bring green life to users

 Electric car made of bamboo


 Basketful of green gifts in bamboo


 Olympic opening ceremony boosts sales of bamboo art
Asian Bamboo now holds land contract agreements for 18 bamboo plantations in Fujian province covering an area of 29,000 hectares.
Next year, they will add another 11,000 hectares. "We invest most of our capital in expansion, because with more plantations we will have more return", Lin explained.
His company focuses on two main business segments: bamboo trees and organically grown bamboo shoots. Due to a shortage of domestic wood supplies and the new trend to eat ecologically grown food, there is fast-growing demand for both bamboo products.
With sales doubling between 2001 and 2006 to $800 million, the organic food market in Asia is booming.
At the same time, China's need for wood is expected to reach 260 million cu m in 2020, with an expected domestic production of only 139 million cu m. These conditions have pushed up the price of wood imports and domestic wood supplies.
As a result, Asian Bamboo profits from the increasing interest in alternative sources such as bamboo, a plant that needs only three years to grow.
The Chinese government is supporting bamboo production through various subsidies.
Lin said that he believes using bamboo in a variety of applications will become more popular.
"We continue to grow fast and will double the size of our company every three years. All over the world, bamboo is being seen as a renewable resource now. And we are in a prime position as a pioneer in this rapidly expanding market," Lin said.
"European investors are very interested in agriculture companies. They know that, with agriculture, you have stable revenues and profits. This is the main reason why we decided to go public in Germany," Lin said.
Asian Bamboo sells bamboo trees to trading companies within China that sell the material to manufacturers in industries such as flooring, furniture, construction and paper. Most of the company's edible bamboo shoots are sold to Japan.