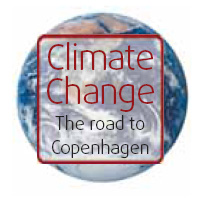 As the biggest seller of carbon credits worldwide, China has made billions of dollars from the Kyoto Protocol's carbon trading mechanism.
The country had attracted thousands of green projects since 1997, when the agreement between 37 developed countries to cut greenhouse gases between 2008 and 2012 was adopted.
As the protocol nears the halfway point, however, experts say China's strong position could be weakened when world leaders discuss revising and expanding the carbon market next month at the United Nation's climate conference in Copenhagen, Denmark.
The Chinese government has so far thrived in a sellers market, but Mei Dewen, general manager of the China Beijing Environment Exchange (CBEEX), a State-run equity transaction institution, said the country's carbon trading model is like a "small-scale, peasant economy".
"Without a legal framework and sound financial service system for carbon emission trading, China, although a major trader, has little say in the pricing of such credits," he said. "It's like a countryside granny selling eggs by the side of the road. She has no choice but to sell them to whoever comes by."
The Kyoto Protocol introduced the use of market-based measures, including "cap and trade" and voluntary carbon off-setting programs. The move turned greenhouse gases - emissions blamed for global warming, such as carbon dioxide, methane and nitrous oxide - into intangible goods that could be traded on international markets.
One tool is the clean development mechanism, which allows developed countries to meet targets by investing in green energy projects in developing nations like China and India.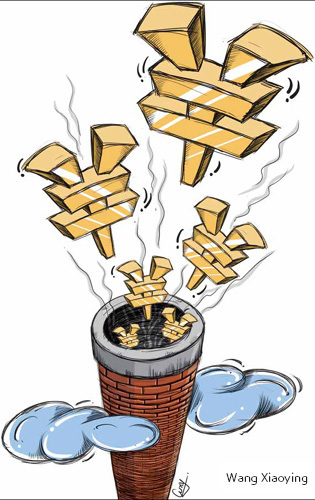 Recent years have witnessed exponential growth in carbon trade, from 2 billion euros ($3 billion) in 2005 when the protocol came into force to more than 24 billion euros last year, said Ivan Lee, an analyst for Nomura Securities, an investment firm based in Japan.
Trade volume worldwide has also increased from 401 million tons of carbon dioxide to 1.6 billion tons over the same period, he added.
As a developing country and one of the worst polluters, China has been a large beneficiary of carbon trading. By the end of August, the central government had approved more than 2,000 clean development projects, 600 of which are registered with UN bodies, which means they are subject to checks against fraud and corruption.
Of the almost 1,800 clean development programs approved by the UN, about 35 percent are located in China, 26 percent in India, 9 percent in Brazil and 7 percent in Mexico.
However, trading exchanges have been monopolized by developed nations, with the European Union's emission trading scheme and the Chicago Climate Exchange in the United States, leaving China lagging behind, said Mei.
Related readings:


 China to start carbon trading market next year


 Carbon trading mooted


 'Carbon credits' scheme to improve air quality


China sells carbon credits
"Carbon financing tools, services, institutions and products still don't exist in China. Our carbon marketplace development not only falls far behind developed nations, it's even behind other developing countries such as India," he said.
When it comes to the clean development mechanism market, China is still at the project development stage, while India has already established financial services, putting them ahead in carbon credit exchanges, trading platforms and staff training.
"As a result, the price for per ton of carbon is usually 2 to 3 euros higher in India than in China," Mei said.