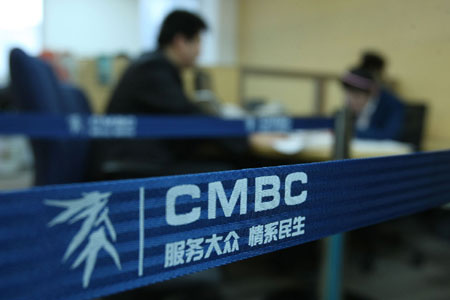 Mainland companies have led the global IPO rebound after the   financial crisis. [China Daily] 
C hina Minsheng Banking Corp and Sands China Ltd will lead at least $12.7 billion of share sales in Asia, as the steepest stock rally in six years drives a revival in equity offerings.
Minsheng, the first private mainland bank listed on the Shanghai bourse, and Sands China, controlled by billionaire Sheldon Adelson, are testing demand for the biggest public sales in Hong Kong since April 2007. Maxis Bhd, Malaysia's largest cellphone carrier, plans an IPO in Kuala Lumpur and China Merchants Securities Co will tap investors in Shanghai.
Sands and Minsheng may raise as much as a combined $7.4 billion, people familiar with the deals said, bolstering their balance sheets as accelerating growth in China fuels gaming and loan demand. This quarter may be the busiest for Hong Kong IPOs since the US subprime-mortgage market collapse triggered a global stocks rout in 2007.
"There will be ample demand for these IPOs, with Asia projected to record high economic growth rates," said Christian Jin, who helps manage the equivalent of $8.6 billion at HI Asset Management Co in Seoul. "This is especially true for China, where there is plenty of liquidity."
Minsheng, whose shares already trade in Shanghai, is selling up to $4 billion of stock, people familiar with the matter said. Sands China, owner of the world's largest casino, is raising as much as $3.4 billion. Maxis is seeking $3.7 billion and China Merchants Securities Co is raising $1.6 billion.
'Healthy signal'
Hong Kong and the mainland have led the IPO rebound, powered by record-low interest rates and the government's $585 billion economic stimulus.
In the mainland, where regulators didn't approve any IPOs in the first five months, sales have already overtaken last year's total, according to Bloomberg data. IPOs in Hong Kong have garnered HK$118 billion in 2009 - not counting the Minsheng and Sands sales - almost double last year's total.
"These share sales are a healthy signal," said Allan Yu, who helps manage $4.24 billion at Manila-based Metropolitan Bank & Trust Co. "Economies are recovering and that's spurring appetite for more investments."
Minsheng's sale values the stock as high as at 1.8 times its 2010 book value as estimated by banks involved in the sale, the people said. That compares with 3.07 times for China Merchants Bank Co and 1.79 times for China CITIC Bank, two of the six mainland lenders that trade in Hong Kong.
Capital shortfall
Selling stock may help Adelson, 76, compete with rival Steve Wynn, whose Wynn Macao Ltd raised $1.63 billion last month, as the world's biggest gaming market heats up. Casino revenue on Macao rose 22 percent in the third quarter from a year earlier.
Related readings:


 Minsheng seeks $4.07b in Hong Kong: report


 Minsheng, Sands plan floats in HK


 Minsheng sees Jan-Sept net profit up 18%


 Minsheng 'planning to raise stake' in California bank

Sands China has the second-biggest market share of Macap's gaming revenue, at less than 20 percent in September, SJM Portuguese news service Lusa said last month. The report didn't give market shares for October.
Minsheng Chairman Dong Wenbiao is seeking to plug a shortfall in the bank's capital adequacy ratio, which fell to the second-lowest among the nation's 14 publicly traded lenders in the second quarter and threatens to stunt profit growth. The bank's shares slipped 0.6 percent yesterday in Shanghai and have almost doubled this year.
More IPOs are coming Hong Kong's way. United Co Rusal, the aluminum maker controlled by Russian billionaire Oleg Deripaska, has applied to sell about 10 percent of itself in Hong Kong as it tries to cut debt.