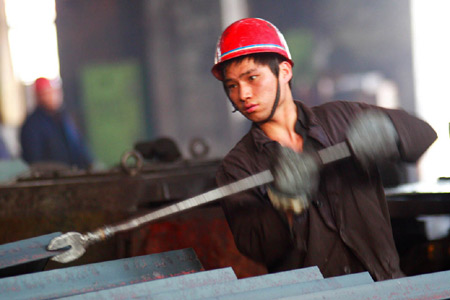 Laigang and Jigang were suspended from trading yesterday due to asset restructuring.[China Daily] 
Laiwu Steel Corp (Laigang) and Jinan Iron and Steel Co (Jigang) were suspended from trading yesterday, indicating that a reverse merger with their parent, Shandong Iron and Steel Group (Shangang), may have been officially kicked off.
Laigang and Jigang said in separate statements that they were preparing for a restructuring of their assets.
Industry insiders said Shangang would adopt Hebei Iron and Steel Group's consolidation model, merging Jigang and Laigang into one listed arm, with Jigang as the restructuring platform.
After the merger, Shangang might become the country's third largest steelmaker after Baosteel and Hebei Iron and Steel.
Hebei Iron and Steel, formed by a merger of Tangshan Iron and Steel Co, Handan Iron and Steel Co and Chengde Xinxin Vanadium and Titanium Co, made Tangshan its only listed arm after absorbing the other two listed arms through a share swap.
Shangang, which was founded in March 2008 and is fully owned by the provincial government, consists of Jigang and Laigang, the sixth and seventh largest steel markers in the country, and Shandong Metallurgical Industry Corp.
Under the provincial steel industry plan, the new group will have an annual output of 31.6 million tons.
However, Shangang's consolidation move has been slow, and it has not taken any substantial steps to combine their equity.
However, the recent acquisition of a 67-percent stake in privately owned Rizhao Iron and Steel, which produces 8 million tons of crude steel annually, paved the way for this reorganization.
Shangang quickened its pace of consolidation after Rizhao's acquisition. On Oct 20, it announced executive changes at Laigang and Jigang.
Xu Xiangchun, a senior analyst from consultant firm Mysteel, said the consolidation would enhance cooperation and reduce costs.
Related readings:


 Laigang official investigated in Rio case


 Laigang executive probed for involvement in Rio case


 Merger yields new iron-steel group in Shandong
But he also warned that these companies faced challenges once the consolidation was in place. "Property rights and personnel management have complicated the integration process. Steelmakers should pay more attention to substantial integration of management and operation, rather than to increased capacity," he said.
Shangang's merger and acquisition strategy is also in line with the government's guidance on steel industry consolidation, one of the country's largest but fragmented sectors.
The Shandong provincial government aims to build a large steel group that can compete on the world stage, and the steel industry wants to develop a steel industrial zone along the coastline.
China will follow Japan's pattern, gradually moving competitive production capacity to the coastal areas to give enterprises an edge over their inland counterparts in terms of the costs of environmental protection, land and transportation, because of increasing pressure over environmental protection, and awareness of the need to control logistical costs, according to KPMG's recent steel report.