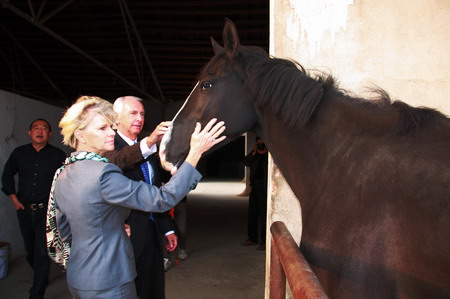 Steven Beshear, governor of the US state of Kentucky, and his wife recently visited the Beijing Yihe Stud horse ranch. Beshear, whose state is famous for thoroughbred horse breeding operations, is eager to promote new business partnerships with China's horse ranches. [File photo]
An increasing number of wealthy people in China have diverted their attentions to some uncommon hobbies. Zhao Xigang, a business owner in Zhejiang province who has been riding horses for years, is one of them.
Zhao, 47, is chairman of Zhejiang OSI Chemistry Co Ltd. Zhao is also owner of Shanlihe Horse Ranch, which is still under construction.
Zhao bought several horses in Kentucky during a recent trip to the United States.
"As a turf man, I really want to breed these fabulous horses at my horse ranch, and many of my friends who share the same interests want to do the same," Zhao said.
The first-stage investment of Zhao's horse ranch is about 98 million yuan ($14.35 million) to import about 50 stud horses from abroad.
In early October, Kentucky Governor Steven Beshear visited China to promote the 2010 Alltech FEI World Equestrian Games and invite Chinese visitors.
Beshear said breeding thoroughbreds is a multibillion-dollar business in the US state of Kentucky and also the source of some 100,000 jobs in his state.
"As the Horse Capital of the World, there are about 300,000 thoroughbred horses in Kentucky, along with more than 500 professional horse ranches," he said.
"I have noticed that the Chinese people are becoming increasingly interested in equitation (horseback riding). I think business cooperation would be a next step for the two countries," he said.
Beshear said although there are only a small number of Chinese people now buying horses from Kentucky, he expects the number to grow in the future with the development of China's horse industry and further promotion of equine culture.
China has a history of horse racing thousands of years old. The last 30 years of economic development have led to an increased interest in equestrian sports.
A big investment
Chu Wen, owner of Beijing Yihe Stud, started his horse ranch in the 1990s. After he made a fortune in his property business, he invested in the ranch in Beijing's Yanqing district.
With an investment of more than 15 million yuan, Yihe Stud covers an area of 16.7 hectares, and it includes standard horse stables, tracks and also a swimming pool for the horses.
"Now there are 10 to 20 such private horse ranches around Beijing," Chu said. "With the development of our ranches, we are eager to import more thoroughbred horses from abroad."
Zhao of Shanlihe Horse Ranch said importing horses is a months-long process requiring many documents and certificates.
Kentucky's governor, Beshear, said his state is willing to work with Chinese buyers to shorten the process.
"We will help to organize visits and meetings with horse associations or farms to talk about importing horses. We are able to provide support and consulting services," Beshear said.
The development of China's modern horse industry is still in its infancy. Unlike investors in other countries, Chinese investors are finding it difficult to make a profit from their horse ranches, they said.
Government support
Related readings:


 Horse wreaks havoc in business hall


 Horse fight, a tourist attraction


 Horse competition in Tibet


 Horse fighting in Guangxi
"The horse industry in China still needs government support and also more publicity and media reports," Chu said.
"It is to allow more Chinese people to get to know equestrianism and participate in it, which will greatly help cultivate equine culture and the market in this country," he said.
Meanwhile, international companies and investors are interested in exploring the emerging horse-related business opportunities in China.
Among them, Alltech, a US-based maker of animal health and nutrition products, has been operating in China for 15 years.
"We have had excellent support from the Chinese authorities in establishing production facilities and offices in Tianjin, and as we look to the future, there are already significant plans to increase investments in China for tier-one production facilities," said Mark Lyons, Alltech's international project director.