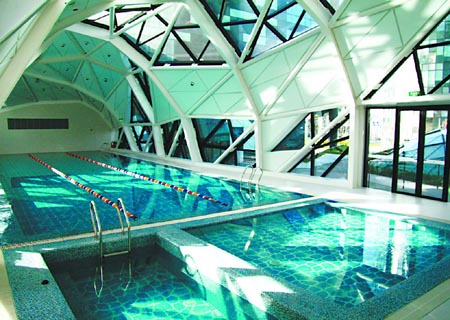 Swimming pool in Ascott Raffles City Beijing. [China Daily] 
In a survey released on Oct 16 by Colliers, an international property service company, the leasing demand for luxury properties in Beijing is on the rise in the third quarter while the vacancy rate has dropped to 28 percent.
This news comes hand-in-hand with a report from the Beijing Statistics Bureau, released last week, saying the local GDP has increased to 816 billion yuan ($119 billion) as of this year's third quarter, up 9.5 percent year-on-year.
As a sign of renewed confidence in the Chinese housing market, Ascott, the Singapore-based international service residence owner-operator, opened its fifth property to the public in Beijing, the Ascott Raffles City Beijing, last Tuesday.
Their newest residence has 162 flats for rent and is located in Dongzhimen, a transportation hub in Dongcheng district.
Related readings:


 China's housing prices rise 2.8% in September 


 Housing boom hits home


 Most economists see recovery beginning


 Half Chinese cities sell less houses in Sept
It follows the success of their first project in the Central Business District (CBD).
Being housed within the Raffles City complex, the complex features shops, restaurants, a large supermarket and an office block.
Tenants can "work, live and do all their shopping under one roof", residence manager Philip Choong said.
Ascott's plan for success in the currently nervous financial market is to place its focus on providing a complete service to its customers.
"What makes us proud is our personalized service. We try to know each of our guests' hobbies and their needs," said Johnson Chua, Ascott's regional general manager for North China.
"If they are not familiar with the city, our team will help them and give them suggestions such as where to find a good doctor or a school."
As an indication that he believes the market demand will continue to grow, Chua also plans to introduce his lifestyle concept to Shenyang in 2011.
Carlby Xie, associate director of Research & Advisory of Colliers' North China Division, said: "The ongoing economic crisis is still hurting the accommodation and catering industry."
"We can see that property owners are cautiously optimistic about the leasing market in Beijing," Xie continued.
Chua agreed.
"The impact of the crisis is at every corner of the society, and we are no exception. But compared with most hotels, our guests are long-time leasers and therefore more stable," he said.
"Despite the difficulties, we still look ahead. We were delighted to discover the government launched its CBD expansion plan recently.
"This will attract more people to come and live in the city and help with the next boom,"
Since coming to Beijing for work 10 years ago, Choong, from Malaysia, said he personally witnessed the growth in the public understanding and acceptance about serviced residences.
"A few years ago we had to elaborate the idea of serviced residence to our tenants. But now we no longer need to do that," he said.
According to the report from Colliers, Ascott is not the only high-end service apartment to open in Beijing this year.
The Marriot group opened its Marriot Executive Apartment on Sept 19, its fourth such apartment building in China.
And in January, another established brand, Millennium Residence, launched a 329-flat property.