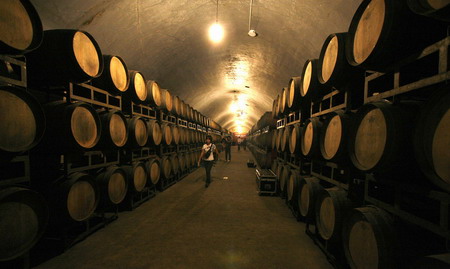 The winemaker reported sales revenue of 981m yuan for the third quarter. [China Daily]  
Yantai Changyu Pioneer Wine said yesterday its net profit rose 43 percent during the third quarter, signaling that the leading wine producer has touched bottom and is on course to recover from the debilitating effects of the global financial slump.
Responding to the positive news, the company's share price rose by over 3 percent yesterday, closing at 64.3 yuan ($9.42).
Changyu's high business growth momentum could be sustained in the months ahead considering the increasingly strong domestic consumption pattern, analysts said.
In its third quarter financial report released yesterday, Changyu said its net profit surged by 43.36 percent from a year earlier to 271 million yuan. Sales revenue touched 981 million yuan, up 32.1 percent year-on-year, it said.
Comparatively, the company's profit and revenue during the first half of this year grew by a modest 15.83 and 8.14 percent respectively on a yearly basis, hurt by the economic recession and shrinking wine consumption nationwide.
"The business growth comes from rising sales volume," said the company in its report. Company executives could not be reached for comment.
The global financial crisis has dealt a bigger blow to the wine industry than that of beer or liquor, but Changyu, the largest wine producer and seller, which holds a market share of around 30 percent, has outperformed the other major players such as Greatwall Wine.
"The worst is over for Changyu and the like," said Teng Wenfei, a beverage analyst from Shanghai Securities. "Thanks to its rich geographic resources and strong sales network, Changyu will witness robust growth in the future."
Related readings:


 Getting to the root of great wine


 China's Kweichow Moutai net profit up 24.6% in H1


 Wuliangye's Jan-Sept net profit up 44.7%


 Changyu FY results buoy investors
As China's economy began recovering, the wine industry saw an upward trend in recent months, and there will be high growth in the last quarter of this year given the low reference point during the same period in 2008, said analysts.
"For the wine industry, the growth rate next year will be 25 percent. Changyu will, at least, keep growing at that pace," said Teng.
Changyu has been investing more to grab a bigger market share. In September, Changyu announced that it would expand grape plantations to 166.67 million sq m by 2010 from the current 133.33 million sq m, and said it planned to become the largest wine producer by owning about one-fourth of the total grape plantations in China.
Recently, it signed a deal with three wine producers from France and Italy, under which the company could sell six categories of premium-priced wines in China.
Wine consumption per capita in China stands at a mere 0.38 liter, accounting for less than 2 percent of beverage consumption in the nation.