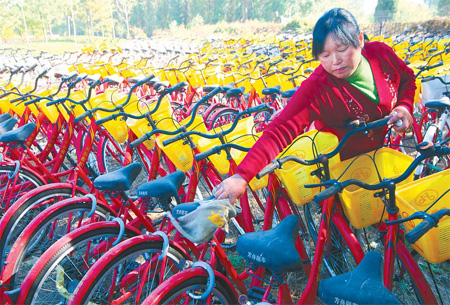 A worker with Fortune Bicycle Rental cleans dust on bicycles in Wangjing area on Wednesday. [China Daily]
Bicycle rental companies in Beijing are going broke because nobody wants to hire their services.
Major rental operators have invested about 100 million yuan ($14.7 million) in almost 20,000 bicycles but are now struggling to survive.
"The company's turnover was almost zero last month," a spokesman from the Bird of Freedom Bicycle Rental said.
He said the company had already sold most of the 400 bicycles. "This is a difficult business, especially in winter. The cold weather almost killed the business," he said.
Bigger rental companies are also facing challenges.
Beijing Bicycle Rental Co Ltd, which owns 8,000 bicycles and has invested more than 30 million yuan over the past year, is feeling the pinch.
Wang Yong, chairman of the group, said his company had not turned a profit since it began in 2005.
"Bike renting is much more like a public cause," said Wang, who also operates a restaurant chain.
Wang Wenkun, who is stationed at a bicycle rental outlet in Dingfuzhuang, near the East Fifth Ring Road, said not one single customer had rented one of his 15 bikes during the past five months.
All the bikes were now rusty and chained together.
"Even thieves will not come for these bikes, because they are so old," he said.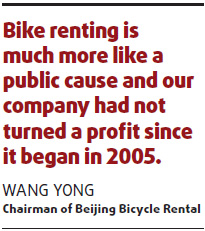 Wang said cycling in a small city may be a good choice, but in a big city like Beijing sometimes riding is "mission impossible".
"It takes one and a half hours to ride to Houhai while it only takes 30 minutes by bus," he said.
Almost all bicycle rental companies in Beijing require deposits of 300 to 400 yuan and then customers need to pay 10 yuan or more per hour.
"I don't want to pay 400 yuan to rent a bike, even if the money is only for deposit," said Zhang Yu, a student in Communication University of China, who does not own a bike and often takes motorized rickshaws.
"If renting for one day will cost 20 yuan and I rent a bike for five days, I can use the money to buy a new one."
Although facing economic ruin, some enterprises are still hope that conditions will improve.
IbikeMedia, one of the biggest bicycle rental companies in China, also invested tens of millions yuan in Beijing and has more than 10,000 bicycles.
Li Weiwei, general manager of IbikeMedia Beijing, said his company had a no deposit and no payment policy.
He said the company tried to make profits by putting display advertisements on the bicycles, but had yet to make a profit because of its small scale.
However, customers must pay 20 yuan per card and also show proof of good personal credit.
IbikeMedia operates 100 rental outlets in Beijing, and 90 percent of these locations are near hotels and schools because customers can pick up and return the bikes at the same sites.
In early July, the Beijing municipal government announced plans to develop a 50,000-bicycle rental operation across the city.
"The bigger network we have, the more citizens will rent bikes," Li said. "This will make rental easier to citizens and we strongly need help from the government."
However, the same rental business is operating quite well in Hangzhou, Zhejiang province.
Related readings:


 High hopes for Beijing's bicycle rental...


 Beijing Prepares Bicycle Rental


 Beijing to put 50,000 bicycles for rent
The city's cycle renting business is now the largest in China with about 20,000 bikes and more than 1,000 service centers.
Zhang Xuecang, a PhD student in Zhejiang University, said people can rent with a citizen card without deposit and the first hour is for free.
If the bike is not returned on time, money will be deducted from the card.
"Many people really love bike renting," he said.
"Hangzhou is not a very big city like Beijing, generally speaking, and you can go anywhere downtown by bike within an hour."