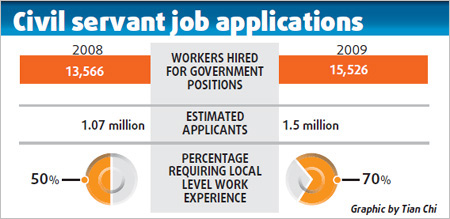 The heated competition for next year's civil servant positions - in which 4,000 people might fight for one job - has not scared away job-seekers as the number of applicants is expected to hit a historical high.
Officials estimate that 1.4 million people will register for the 2010 civil servants exam, up about 30 percent over last year, said Yu Hongze, vice president of Huatu Education, an agency specializing in preparing applicants for the annual civil servants exam.
Among them, only 15,526 people will take the 9,275 civil servant positions. Some of the positions have multiple openings.
By yesterday morning, the number of registered applicants had reached a peak of about 700,000 since it opened for online applications on Oct 15.
Last year, the government recruited 13,566 people for its 7,555 positions.
Related readings:


 Carriers of anemia gene are denied civil servant jobs


 1,000 cheaters busted in national civil servant exam


 China civil servant application website jammed for overload
Civil servant jobs are considered a stable and rewarding employment option among Chinese, as the still-fragile global economy makes private sector jobs less attractive, said Bian Ba Suo Lang, 22, a Tibetan student in Nankai University in Tianjin. He recently applied for a job in a county taxation bureau in Tibet.
He noticed that this year, about 70 percent of government jobs at provincial-level and above require two-years' working experience at the local level.
Last year that figure was about 50 percent.
"The emphasis on working experience at the local level will have an impact on college gradates," Yu said.
The change adheres to the government's policy encouraging civil servants to acquire grassroots experience. The policy has called for college students to work in the western region or in the villages.
The most popular positions by Tuesday include one in the Ministry of Science and Technology, with about 2,000 applications, and a position recruiting four persons at the Customs Office in Xiamen with 5,575 applicants.
However, about 500 positions at the Supreme People's Court and the Ministry of Education still have no applicants.
These positions have strict requirements in the applicant's major, political background and working experience at local level, Yu said. "I cannot say what the hottest position is so far," he said. "Whatever it is, this is a tough race where one person will beat at least 100."
Last year, the most coveted position was a vacancy in the China Disabled Persons' Federation, attracting 4,723 applicants.
If no major is specified for the position, everyone can apply, Yu said.
But the large number of registered applicants does not necessarily mean the same number of people will sit for the exam in November.
Last year among 1.07 million applicants, only 770,000 took the exam, he said.