Chinese Premier Wen Jiabao said Wednesday China and the United States should make joint efforts to push forward cooperation on clean energy and climate change in a substantial way.
Wen said such cooperation is important work and in the interests of both countries and the world. He said the two countries should advance cooperation in this area to bring benefit to the human beings and future generations.
Wen made the remarks when meeting with participants of the Strategic Forum for US-China Clean Energy Cooperation that began in Beijing Wednesday. The forum will last to Friday.
The forum was co-sponsored by the Chinese think tank China Institute of Strategy and Management and the Brookings Institution of the United States. Participants include Chinese Vice Premier Li Keqiang, former US Vice President Al Gore and high-ranking officials from both governments.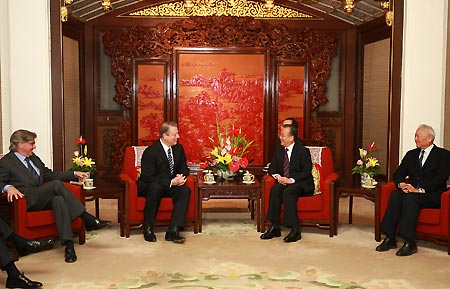 Chinese Premier Wen Jiabao (R2) talks to the US delegation of Forum on Strategic China-US Clean Energy Cooperation led by former US vice President Albert Gore(L2) in Beijing, Oct 21,2009.[Xinhua] 
US Secretary of State Hillary Clinton and Secretary of Energy Stephen Chu will deliver video-taped address at the meeting Thursday.
Related readings:


 China hopes to improve int'l energy cooperation


 Investor Soros to chip in $1b for clean-energy tech


 Clean energy to create more jobs than coal: Study


 Wind may prop China's power rush
Wen said since China and the United States are both major energy producers and consumers, the two countries share common interests in developing clean energy and addressing climate changes. He said bilateral cooperation in this area has strategic significance and broad prospect.
Wen said the two sides should earnestly implement the agreement on the 10-year energy and environment cooperation framework they signed in June 2008.
He called for the governments, enterprises and researching institutes of both countries to join effort for this end.
Wen said energy efficiency and environment protection are both a basic strategy of China to achieve sustainable economic and social development and a major measure to cope with climate changes.
The American guests made positive comments on the efforts that China has made in developing clean energy and addressing climate changes.
They expressed the wish that the two countries should set up common targets and carry out constructive, practical cooperation in this respect.